206 SQUADRON
(Last updated: 02.03.14)
This page contains 206 Squadron details on the following:
History of the squadron
Squadron badge
WWII bases
Squadron group photographs:
*1941 Aldergrove
*1942 Aldergrove
*1944 Azores
*1945 Leuchars
*1945 Leuchars - 6th June
History of the 206
The 206 Squadron was originally formed in 1916 and served in France as a Fighter, Bomber and Reconnaissance Squadron. After the end of the First World War the squadron returned to England and was renumbered No. 47 Squadron on the 1st of February 1920. The expansion of the RAF in the mid 1930's began to produce an increased flow of aircraft and in June 1936, 206 Squadron reformed at RAF Manston as a General Reconnaissance Squadron flying Avro Ansons.
In August 1936 the Squadron was transferred to Coastal Command and in March 1938 presented with its emblem the 'Octopus'. With the outbreak of the Second World War the Squadron consisted of 24 aircraft, some of which were the Anson and some the Lockheed Hudson. By 1942 the Hudsons were being replaced by the Boeing Fortress II and IIA however one of the last tasks for the Hudsons was to take part in the '1,000 Bomber Raids' over Germany (within the 'F/Lt Ken Bass' section in the '1942' subsection). The Fortress II's and IIA's provided the facility to cover a much greater area than had been previously available and the 206 moved to the Azores to provide convoy protection.
In April 1944 the 206 moved back to the U.K and they converted to Consolidated Liberators, this replaced the Fortress as it enabled the crews to conduct successful night sorties using radar against the German U-Boats. There were patrol duties over the Norwegian coastal areas that the unit continued for the remainder of the war. With the end of the war in Europe, 206 were tasked with the transport of freight to India and then returning home ex-POW's from the Far East until 206 was disbanded in April 1946. By the end of the war 206 Squadron had destroyed a total of 10 and assisted in the destruction of a further 2 U-Boats. 206 Squadron personnel had received 37 Distinguished Flying Crosses and 13 Distinguished Flying medals, sadly the Squadron had also lost a total of 274 personnel.
206 Badge
An octopus was approved by HRH King George VI in January 1938. The octopus, a very active creature, indicated the Squadrons vigourous approach to a challenge. It's also symbolic of the Squadron's maritime role. Interestingly I was contacted by Theresa Clarke whose husbands Grandfather was F/Sgt Geoffrey Turner, he apparently designed the octopus within the Units badge! You can find more information about him within the 'People Met On The Way' section.
Motto
'Nihil nos effugit' = 'Naught escapes us'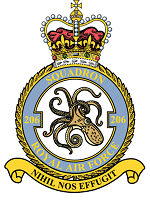 The unit badge is enclosed in the coloured Royal Air Force Blue, and inscribed in gold lettering with the name and number of the Squadron or Unit and the words 'Royal Air Force'. This in turn is encircled by a gold laurel wreath and the whole ensigned by a crown in proper colours. Below that is a scroll with the Squadron or Unit motto. The Tudor crown was used prior to the Accession of the present sovereign, when it was then changed to the Saint Edwards Crown.
206 Bases during WWII
Detatchments are listed in brackets:
Aug 1936: Bircham Newton (Carew Cheriton, Hooton Park, Aldergrove, St Eval)
Mar 1940: Converted to Lockheed Hudsons
May 1941: St Eval, Cornwall
Aug 1941: Aldergrove, N.Ireland (Wick, St Eval, Chivenor, Stornoway, Donna Nook)
Jul 1942: Benbecula, Outer Hebrides (St Eval, Thorney Island)
Aug 1942: Converted to Flying Fortresses
Oct 1943: Thorney Island, Hampshire
Oct 1943: Lagens, Terceria, Azores
Mar 1944: Davidstow Moor, Cornwall
Apr 1944: Re-equipment with B-24 Liberators
Apr 1944: St Eval, Cornwall (Tain)
Jul 1944: Leuchars, Fife (Tain)
Jun 1945: Squadron transferred to 301 Wing, Transport Command
Aug 1945: Oakington, Cambridgeshire
Apr 1946: Squadron disbanded in Oakington
206 Squadron Group Photographs
Aldergrove
August / September 1941
This photograph is one of the earliest ones I have of Ken after he joined 206 Squadron. It came to my attention in 2004 after a visit to my great uncle Howard Bass who was Ken's younger brother. You can see Ken, Clark and Robins with a Lockheed Hudson behind them.
I believe it's from September 1941 however Simon Nelson confirmed his copy states August 1941, his father, Flying Lieutenant Lawrence Nelson is in the front row. David Clarke has identified his great cousin, Flying Officer John Owen who is also in the front row.
I was contacted by Richard Crowe, son of Sgt Eric Crowe (WOp/Ag) who has identified his father on the top row. Eric Crowe, John Owen and Lawrence Nelson's stories are all in the 'Memoirs' section.
Top Row - 'Dusty' Miller - 2 from left, Bill Morgan - 3 from left, Eric Crowe - 4 from right
2nd row down - Ken - 6 from right
3rd row down - Clark - 9 from right, Robins - 5 from right
Bottom row - John Owen - 6 from right, Lawrence Nelson - 4 from right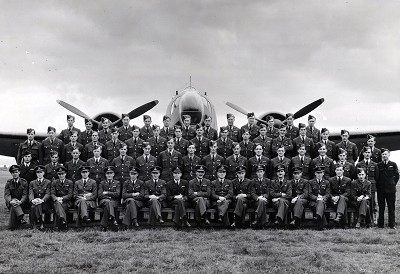 Close Up
Since David Clarkes' contact I thought I'd add this close up of the people we know...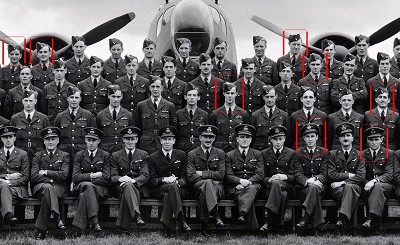 Aldergrove
April / May 1942
This photograph is one I first spotted in the 206 Squadron book 'Naught Escape Us' by Peter Gunn. I managed to trace the owner F/Lt Jack Farley and he kindly posted me a copy.
It's another group shot of 206 Squadron from Aldergrove and we believe it was taken in April or May 1942. I have been able to identify a number of people from my investigations to date. For some reason Ken doesn't appear on it, perhaps he was on leave at the time. Those I have identified are listed below.
Top row - Jack Farley - 11 from left

2nd row down - Clark - 3 from left, Ronald Stares - 12 from right

3rd row down - John Owen - 5 from left

Bottom row - 'Dusty' Miller - 1 from right, Bill Morgan - 3 from right

Azores
1944
This photograph was provided by Sonia Johnson whilst researching her father William Bate Rundle whose story is in 'Memoirs' within the 'Wireless Ops: Part III' section. It also appears in the 206 Squadron History book 'Naught Escape Us'.

Leuchars
1945
I found this photograph on eBay in September 2009. It has "206 Squadron RAF Leuchars 1945" written on the top left corner and it came from the family of Sgt R.E.Harwood. There's a Liberator in the background.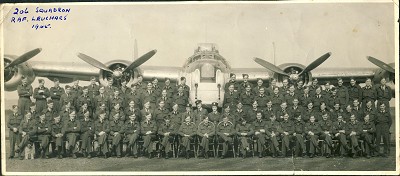 Leuchars
6th June 1945
This photograph was provided by Jayne Carmichael in January 2011, it was her fathers Roy Winer and has a Liberator in the background.
Bottom row: Roy Winner - 3 from right
2nd row from bottom: Danny Quinn - 1st from left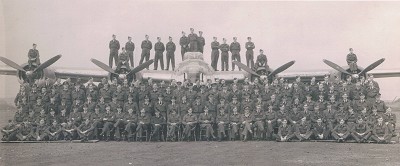 For a much closer view of the above photographs, please visit the 'Gallery' section, for more photographs of Ken's crews please visit the 'F/L Ken Bass' section