NAVIGATORS: Part 1
(Last updated: 28.02.10 - John Rutherford)
Here's the first list of WWII 206 Squadron Navigators, click on their photograph for their story...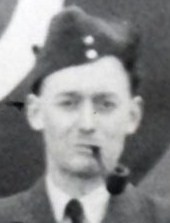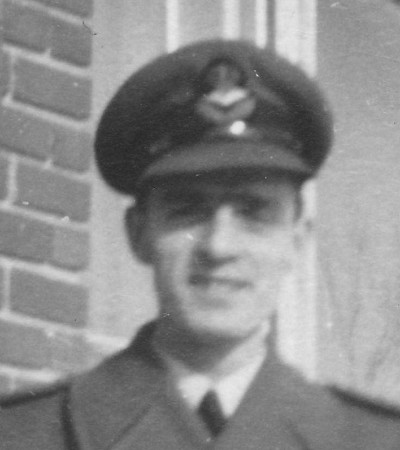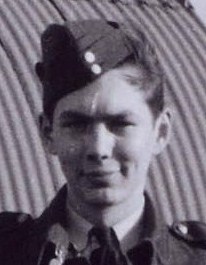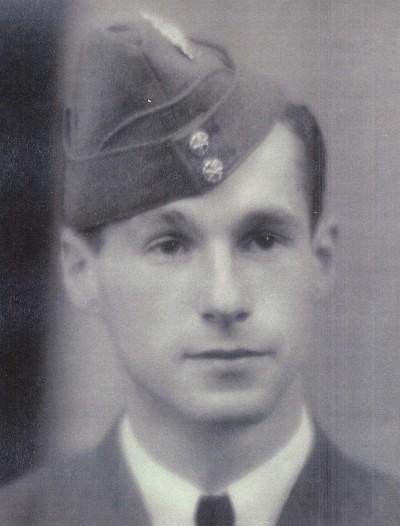 Ken Roberts by Clive Roberts (2008) Flew in Ken's crew


Leslie Wildey by Allan Wildey (2007) Voice Recording


John Rutherford by Ray Rutherford (Mar 2009) Flew with Ken


Robert John Edgar by Charles Johnston (Nov 2009)
Ken Roberts
Navigator on Ken Bass' Crew (my Grandad)
Rank: Squadron Leader
Number: 1014803
Joined 206: ??/??/194?
Flew with Ken:
68 times


Born: 18/08/1916
Died: 30/03/2003
I found out about Ken Roberts when I first started to investigate Ken's (Grandad) history. Gran remembered him very well along with his wife Joan Roberts, as they had met on a couple of occasions after the war. According to Ken's (Grandad) log-book they flew together 68 times, always in Fortresses and right up until the last operational flight that Ken (Grandad) had in 206 Squadron, before his transfer into Group 15 in August 1943. The log-book has Roberts going from a Sergeant to Flight Sergeant between the 1st and 5th November 1942 so I presume he was promoted at this time.
I wrote to Ken in 2002 to find out whether he remembered Ken (Grandad) or the 206 Squadron, I enclosed a few photographs including the one below of the Crew
Miller - Bass - Anderson - Hunt - Roberts - Morgan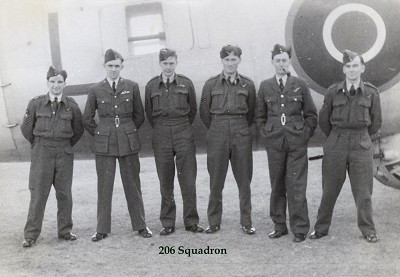 I was delighted when he telephoned me on the 4th November 2002. I scribbled the following notes about the conversation...
Ken met grandad at Aldergrove in 1941, they flew together in Hudsons. After around 1 year they went to Benbecula where they flew in Flying Fortresses;
"They were a much better aircraft with a longer range"
They stayed together for around 18 months at which point Grandad was tour expired around 1943. This meant he would then go on to do other activities such as operational duties in a training capacity. Ken commented on Ranald Anderson who was the crew's co-pilot;
"Anderson wasn't with us for long, about 6 months or so I think. Co-pilots generally were short term as they went on to became pilots themselves and got their own crew."
They flew in the 1,000 bomber raids over Bremen and Hamburg in Hudsons that had a 14,000 feet ceiling but they weren't in the same plane. Ken flew with another pilot called Bill Rattery who Ken describes as being built like a rugby player.
Ken described my Grandad as follows;
"He was the very best type of pilot; he was a modest man, stable with a good sense of humour, reliable and competent. When we were in the middle of the Atlantic the autopilot was not steady enough but Ken flew it manually and could keep it very steady for 2-3 minutes, which was very important for the Navigator, as we would be using a sextant."
Ken finished up in Farmbough in the mid 50's.
After the war both chaps and their wives met in a service station near Stoke and they exchange mail at Christmas.
I heard through Gran that Ken had passed away a couple of years ago and with the development of the website I decided to get back in touch with his wife Joan in November 2007. I had a reply in December 2007 from one of their sons Clive Roberts who has kindly sent over some photographs of Ken and Joan, some from the RAF days and some from the 80's, along with a newspaper cutting below...
Ken Roberts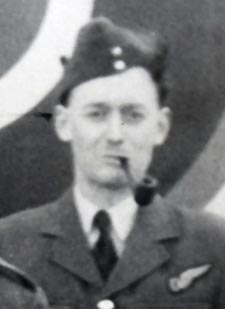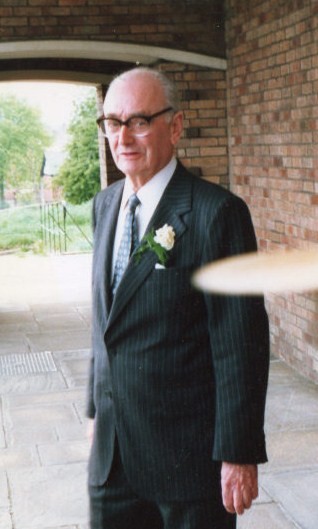 A Canadian Newspaper: Silver and Ebony Trophey
In the text below Ken is referred to as John and although that was his first name, everyone called him by his second name Ken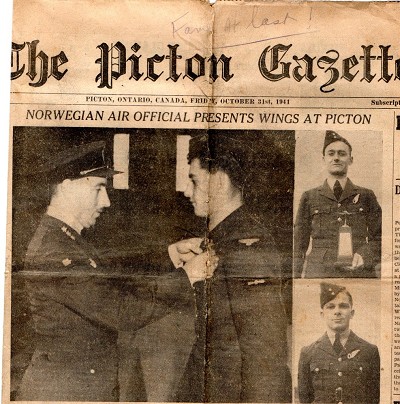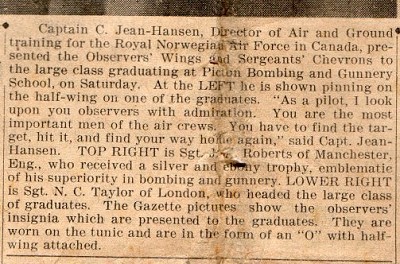 Ken Roberts and his wife Joan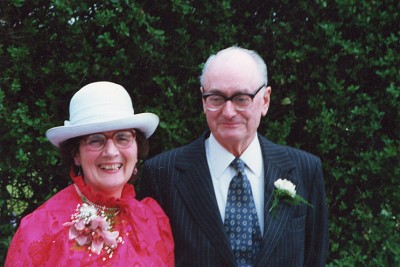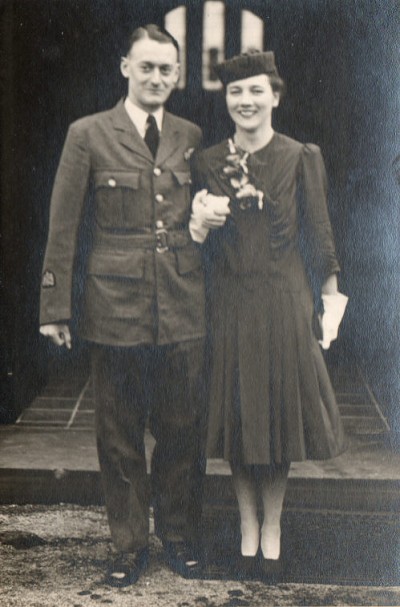 Ken Roberts with 3 of his children
Jono - Clive - Helen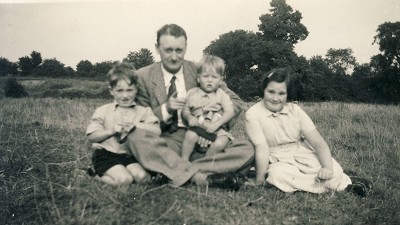 Leslie F Wildey
Rank: Flight Lieutenant
Number: ?
Joined 206: ??/??/1944
Flew with Ken:
0 times


Born: 26/03/1912
Died: 13/12/1984
Allan Wildey contacted me to say his father had been in the 206 Squadron from 1944 to 1946 and had been involved in A/S operations and in the repatriation of British servicemen from India, having spent the previous 3 years in Canada as an RAF aircrew instructor. Allan provided the following photographs in April 2009.
F/Lt Leslie Wildey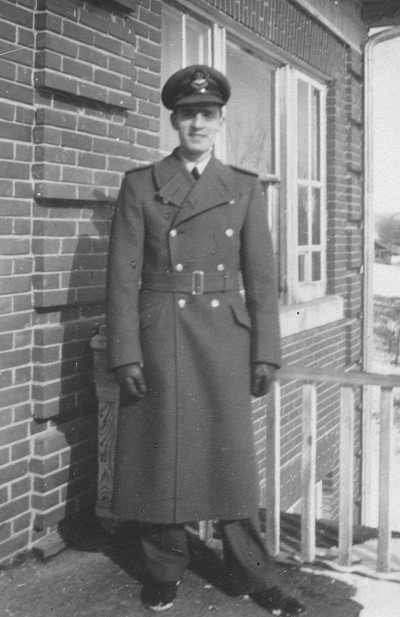 Port Albert
Leslie is back row 2nd right
Sgt Rosbottom 3rd right was friends with Leslie but dissapeared on his first sortie over Germany while piloting a Mosquito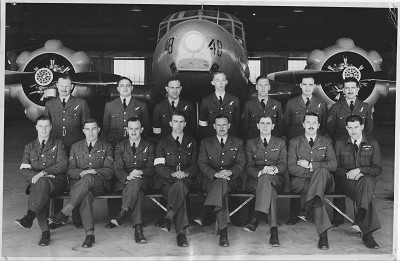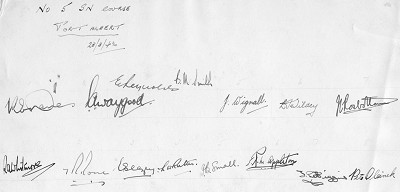 No. 8 Course A.C.O.S
Leslie is front row 2nd right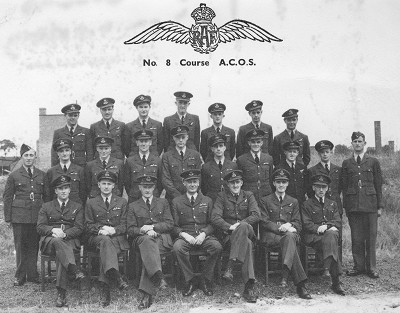 L.F Wildey sadly passed away in 1984, but Allan has also provided me with a recording from around 1983, of Leslie talking about his experiences in the RAF and the 206 Squadron. He has some very interesting pieces of information including navigation and bombing training, his time as an instructor and in Canada.
Click the icon below to listen to the 9 minutes 38 seconds of L.F.Wildey...

I was most interested to hear his recollection of shaving in Iceland, where he describes a bitterly cold mountain stream in Reykjavik. This describes the very picture that I have of Ken and his crew in Timeline section within '1941'. Here's one of them below...
Iceland: Reykjavik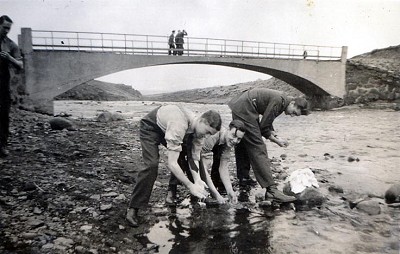 John Rutherford
Rank: Pilot Officer
Number: R-86383
Joined 206: 15/07/1942
Flew with Ken:
2 times


Born: 22/07/1919
Died: 05/04/1979
Ray Rutherford got in touch with me in November 2008 by leaving a note on my Guest Book. After a couple of months of correspondence Ray built up a great selection of photographs and log-book entries linking his father John to 206 Squadron.
John's full name was John Thomas Rutherford, he was born on the 22nd July 1919 and sadly died on the 5th April 1979 aged 59.
He went to Kelvin High School in Winnipeg as did Ray's Uncle Owen Harper who also joined the war effort serving in Bomber Command as a Flight Engineer.
John had a nickname of 'Baptiste' which came from when he worked in northern Ontario, at Hudson and Red Lake. He used to carry a hunting knife which he kept with him throughout the war.
The following collection was provided by Ray along with the details of John's various postings.
John Rutherford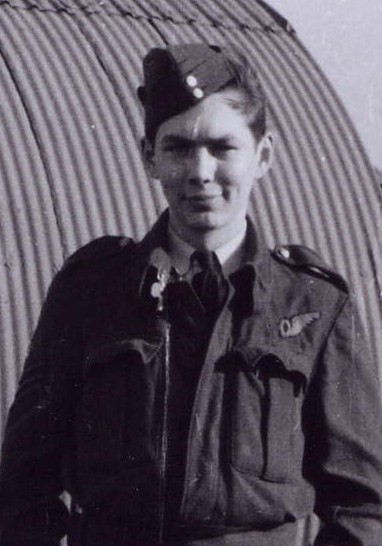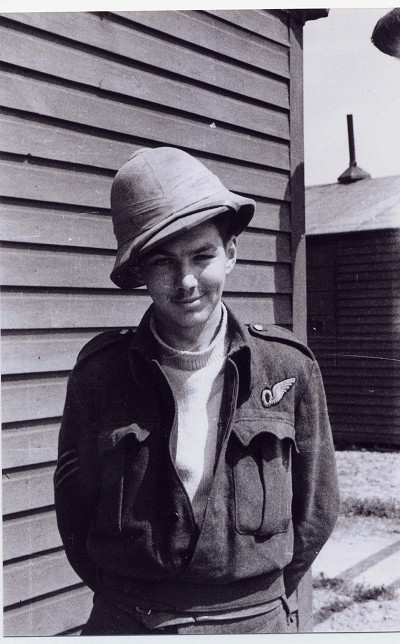 John's Training
July 22nd 1940: Joined up with the Airforce

Jan 1941: Reported to Manning Depot in Toronto, Canada

9th June - 1st Sept 1941: First Course No.4 A.O.S. Air Observers School

1st Sept - 13th Oct 1941: Second Course No.1 Bombing & Gunnery School. Jarvis, Ontario

13th Oct - 10th Nov 1941: Third Course No.2 A.N. Astro Navigation School. New Brunswick

22nd Dec 1941: Arrived in Bournemouth, England

9th Jan - 14th Feb 1942: No.2 A.O.S O.C Training Wing, Millom, Cumberland

16th Feb - 6th Apr 1942: No.3 School of General Reconnaissance, Squires Gate

21st Apr - 15th Jul 1942: No.1 O.T.U Hudson Course No. 26 & 28, Silloth
No.3 School of General Reconnaissance: Squires Gate
7th March 1942: Newspaper Cutting
A close shave after a night out!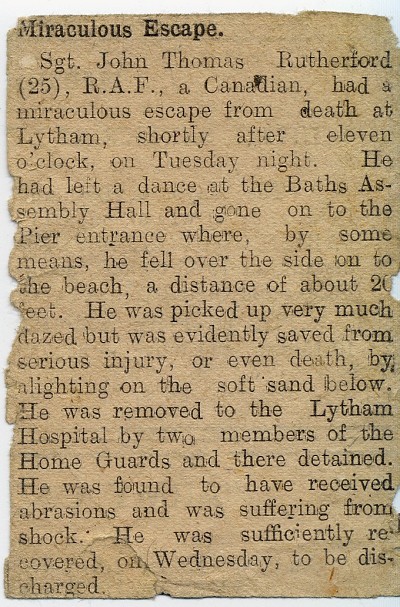 No.1 O.T.U: Silloth
It's at Silloth where John met up with Pilot 'Lofty' Gullen, Air Gunners Bill Harvey, 'Jock' and Clemson.
I instantly recognised Clemson from my Grandad's photographs of his Liberator crew in 1945, these can be found within 'F/Lt Ken Bass: Crews' section.
Clemson - Harvey- Rutherford - Gullen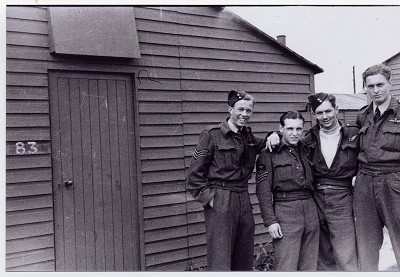 Clemson - Harvey - Gullen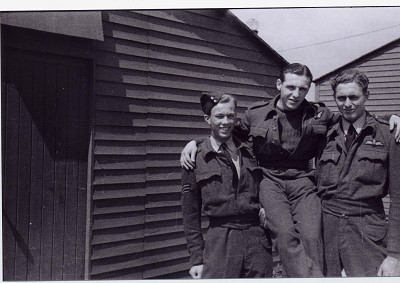 The following two photographs were provided by Roger Gullen which are covered in the story of his father John Gullen within the 'Pilots: Part II' section. They are standing in front of a Lockheed Hudson.
Rutherford - Harvey - Gullen - Clemson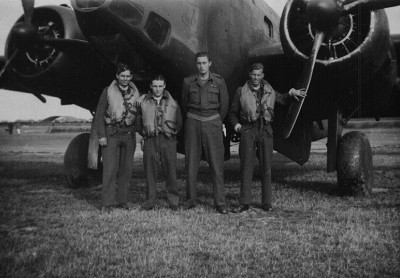 Graduation class of Navigators
Lansdall - Emerson - Follis - Main -Hamann - Rutherford - Grainger
Kiel - Jones - King - Griffiths - Hughes - Walker
John's Operational Service
15th Jul 1942 - 1st Jul 1943: RAF 206 Squadron, Benbecula

2nd Jul - 31st Aug 1943: RAF 280 Squadron, Thorney Island

1st Sept 1943 - 20th July 1944: RCAF 415 Squadron, Thorney Island

20th Jul - 1st Aug 1944: RCAF 524 Squadron, Bircham Newton
It was at this point John had completed his operational tour and returned to Canada to No. 1 R&NS School at Summerside, Prince Edward Island.
He was released from active service on the 19th May 1945 with the rank of Pilot Officer.
206 Squadron: Benbecula
August 1942
Rutherford - Gullen - Mrs Lee - Harvey - Clemson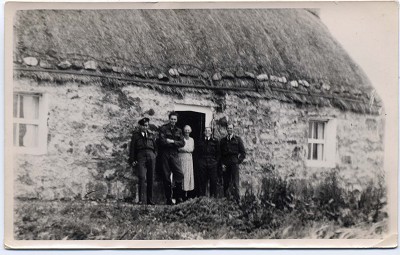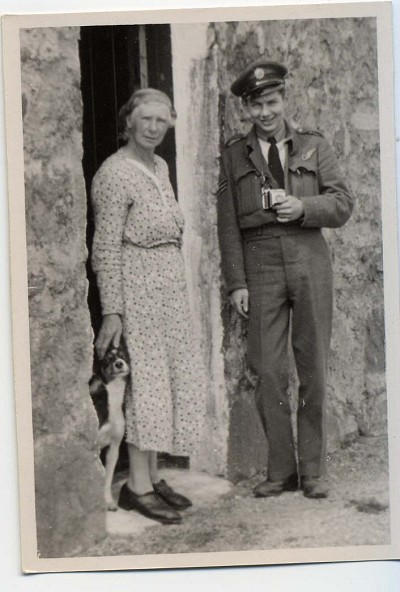 Caricature drawing of John Rutherford 'Baptiste' in 1942
The artist was Pat Rooney with more of his pictures at the link below: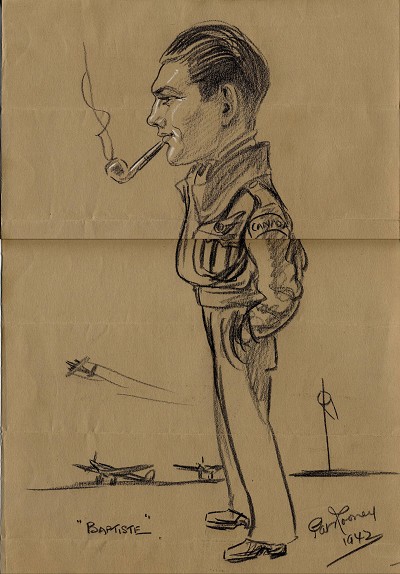 March 1943
John Rutherford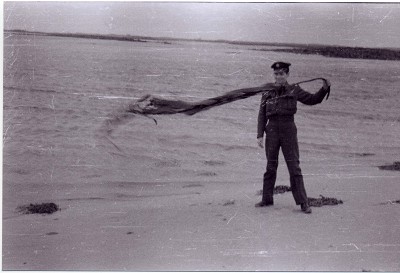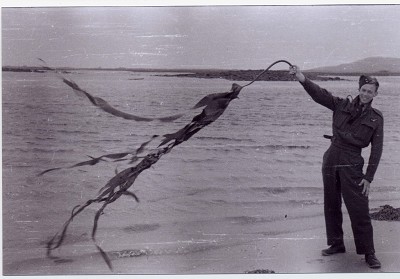 Gullen - Rimmer John Rutherford (W/O)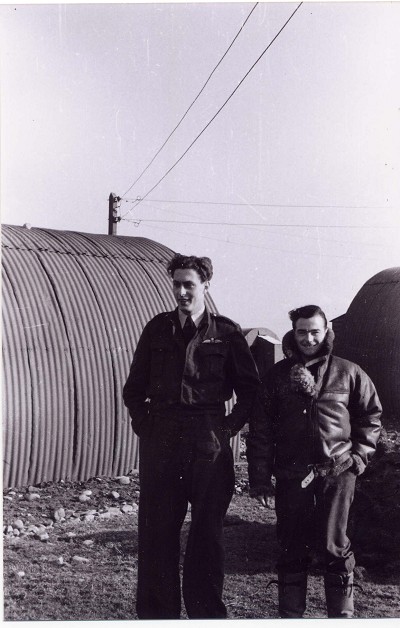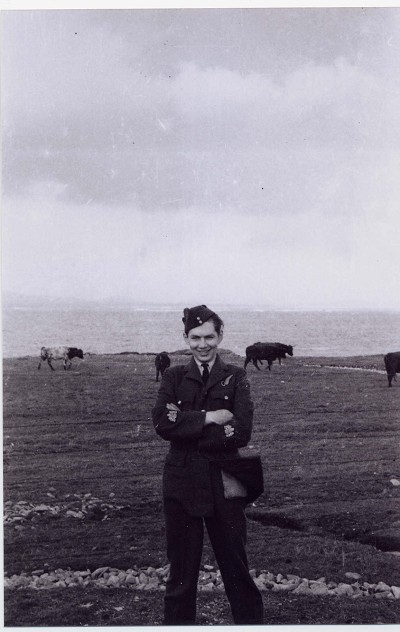 John Rutherford
Crest on his jacket says "Festina Lente" meaning "Make Haste Slowly"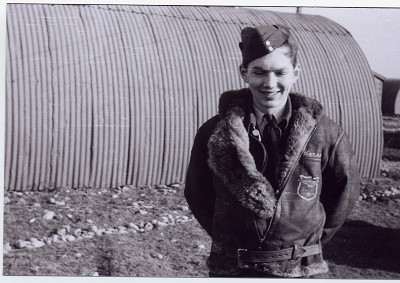 206 Squadron: John Owen & Eric Crowe
Ray also sent over several logbook entries where we were able to link John to several other 206 Squadron members that we already have stories on.
Ray had heard his father talk about the operation with Pilot John Owen on the 11th Dec 1942 when they attacked 3 U-Boats. He must have been on leave straight after that operation because it was only 3 days later when John Owen and his crew failed to return. He was also part of John Owen's crew the month earlier when they bombed a whale on the 20th Nov 1942. WOp/AG Eric Crowe was also part of the same crew for these operations.
Both John and Eric's stories can be found within the 'Memoirs' section.
11th Dec 1942: Attacked 3 U-Boats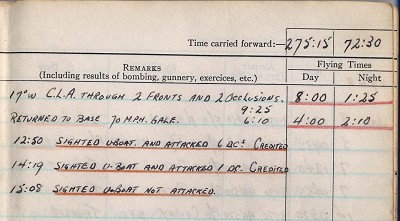 206 Squadron: Lawrence Nelson & Bill Blackwell & Clarke
Ray also found the names of the several other pilots including Nelson, Blackwell and Clarke in John's logbook.
Both Lawrence and Bill's stories can be found within the 'Memoirs' section and Clarke is pictured with my Grandad several times which can be found within 'F/Lt Ken Bass: Crews' section.
Nov 1942 flying with Lawrence Nelson and John Owen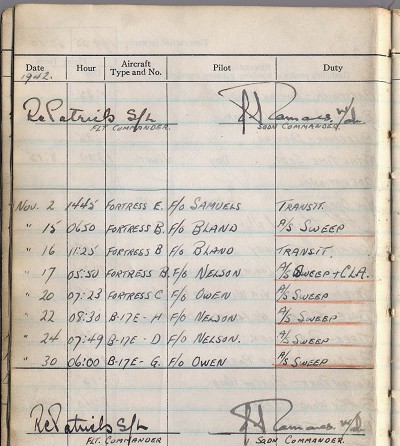 John Rutherford
April / May 1945 in Brantford, Ontario, Canada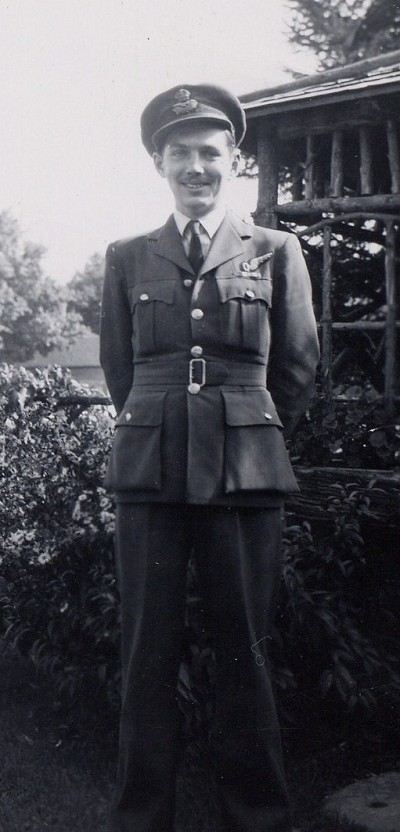 Ray provided this photograph in August 2009 which has some of John's equipment within it. You'll see his flying jacket, gloves, letters, cap, logbook and a .38 cal Enfield revolver which was the type of revolver issued to them at that time.
John's Items at Ray's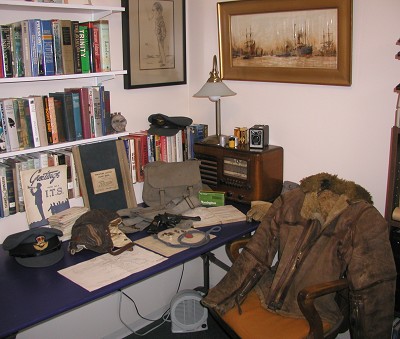 Links to Ken
Having seen some of John's logbook entries I was able to cross reference them against Ken's. I found two exact matches both on the 7th January 1943 in Fortress AN520 'X'. Squadron Leader Patrick was the first pilot on both trips with Ken and P/O Cowey as second and third pilots along with 10 passengers / crew and John Rutherford was one of them as a Navigator.
7th January 1943: Ken's logbook

7th January 1943: John's logbook

Robert John Edgar
Rank: Flight Sergeant
Number: R-75858
Joined 206: ??/03/1942
Flew with Ken:
0 times


Born: 01/08/1917
Died: 28/07/1942
I found Robert Edgars bio after Richard Crowe sent me the link having found it whist he was investigating his father Eric Crowe (his story is within the 'Wireless Ops: Part I' section). The bio was written by Charles Johnston and after contact with Charles he kindly agreed for me to host an extract of that content here.
Robert Edgar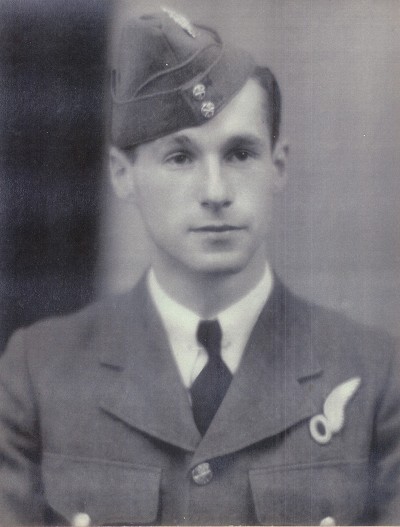 Robert John Edgar & his wife Douglas
1st August 1917 - 28h July 1942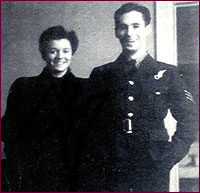 Extracts from Bio written by Charles Johnston
The isle of Benbecula, the last home away from home for F/S Observer Robert (Bob) Edgar, lies between North and South Uist in the Outer Hebrides of Western Isles of Scotland. The principle feature of this so-called Mountain of the Fords (after the Gaelic) was its almost uniform flatness, relieved only by small village communities and a modest elevation of some 400 feet, which has give the otherwise oblate island its name. Because of its terrain Benbecula was seen early on as an ideal location for an airport, and such a facility was duly built on its western shore overlooking one of the many sandy beaches that encircle the island. Then after war came in 1939, a strategic military base and airfield soon materialised on the site. And it was to the airfield that Bob Edgar was dispatched in the early summer of 1942 while serving with No. 206 Squadron, a unit engaged in the vital task of anti-submarine patrolling.
At least some aspects of Benbecula, the beaches and small communities in particular, may have reminded Bob of the picturesque Bruce Peninsula in Ontario where he had spent much of his boyhood. A native of Owen Sound, he was born on 1st August 1917 to Robert John Edgar, a bookseller, and Edith Stewart (McLaughlin) Edgar, both staunch members of the Presbyterian Church. Bob was a late arrival in the family, having been long preceded by two sisters, Marjorie and Edythe, who were in their teens when he was born. As a result he may not have enjoyed a close association with his siblings.
...
Nov 1940 - Enlisted in the RCAF

Nov 1940 - Posted to RCAF's Manning Depot in Brandon, Manitoba

Dec 1940 - Posted to Auxiliary Manning Depot at Picton

Jan 1941 - Posted to No. 8 Service Flying Training School, Moncton, New Brunswick

Mar 1941 - Posted to No.1 Initial Training School (ITS), Toronto

May 1941 - Selected for Navigational Training

May 1941 - Posted to No.4 Observer School (AOS), London, Ontario

Aug 1941 - Posted to No. 4 Bombing and Gunnery School, Fingal, Ontario

Aug 1941 - On the 23rd he married Douglas at St James in Dundas

Sep 1941 - Promoted to Sgt and awarded Observer wing

Oct 1941 - Posted to No. 2 Air Navigation School, Penfield Ridge, New Brunswick

Nov 1941 - RCAF Y Depot, Halifax

Nov 1941 - On the 12th Bob set sail in a convoy for England

Nov 1941 - On the 23rd posted to No.3 Personnel Reception Centre, Bournemouth

Dec 1941 - Posted to No.2 AOS

Feb 1942 - Posted to School of General Reconnaissance
...
Periodically, like so many wartime wives on the home front, Douglas enjoyed the "fun" of sending her grateful husband parcels of clothing, candies, and especially fruitcake, "his favourite". The best news, however, she sent by cable, that he was now the father of a daughter, Robin Elizabeth. Bob, who had been kept fully informed of the changing state of Douglas' pregnancy, immediately wired back his happy response and shortly followed it up with a card. Photographs and additional news duly arrived of the child that he was fated never to see.
By this time the new father, who had been promoted Flight Sergeant on 15th March 1942, had been posted to the RAF's No. 206 ("Octopus") Squadron. which now formed part of Coastal Command and came equipped with the Hudson bombers. Bob had joined the unit on 13th May while it was still based at Limavady in Northern Ireland. He soon saw at first hand the workings of the BCATP as he mingled with airman from virtually every Commonwealth country, most of whom had been trained in Canada. And perhaps one can visualise Bob, the accomplished tenor soloist, entertaining his new comrades as they gathered around the piano in the sergeant's mess.
Some weeks after his arrival in Northern Ireland and quite likely with at least one operation under his belt, he and 206, were transferred to the beach-girdled Isle of Benbecula in the Outer Hebrides. It would appear that the unit was immediately assigned, among other duties, to shepherding convoys on part of their hectic run to the northern Soviet port of Murmansk, the very information that Bob is said to have conveyed in this coded mail.
As dawn broke on the 28th July 1942 Bob's Hudson took off to participate in what was described as an operational sweep. But when it failed to return after the estimated interval and a search of the area yielded no results, the aircraft's mixed Commonwealth crew was officially declared missing and later presumed dead. Bob had been a few days' short of his twenty-fifth birthday. He was posthumously awarded the RCAF's Operational Wings for "gallant service in action against the enemy". Among the effects returned to a grieving Douglas were the photographs she had recently sent him of their newborn.
Robert John Edgar, who has no known grave, is commemorated at the Runnymede War Memorial, Englefield Green, Egham, Surrey, England.
C.M. Johnston
Here are two sections taken from Roberts Death Certificate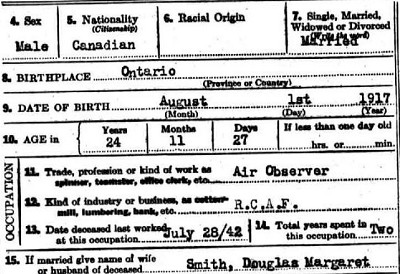 Links to Ken
After finding the bio I checked the 206 Squadron Roll of Honour and cross referenced that fateful date of the 28th July 1942 when they failed to return. I found a match with 3 other men all of which had 'Death Presumed' against their names on that date.
Robert's fellow crew members
P/O W.A.L.Ireland: 127167

Sgt C.P.Jenkins: Aus 403209

Sgt R.North: 1207536
Sgt R.North
I cross checked Ken's logbook for any references to these 4 men and found that he had flown with Sgt R.North on the 4th of January 1942 on an anti submarine sweep in Hudson AM792 'V'. There was no record of flights with the others.
I then checked the 206 Squadron official records and found 2 references to the 28th July 1942 which confirmed the Hudson that they failed to return in as AM805 'W'
28th July 1942
The details from those records show that Ken also flew on that date, Pilot P/O Ireland and his crew including Robert had taken off from Benbecula at 5:00am on an A/S Sweep, 2 hours 10 minutes later Ken and his crew took off at 7:10am in Hudson AM587 'D' on an A/S Sweep. Ken sighted a convoy on this Operation. Here's the section of the report showing the detail from this day.
Monthly Summary Extract

Daily Summary Extract
Robert Edgar appears on the top line and Ken Bass appears on the bottom line

Hudson AM805 'W'
I cross checked Ken's logbook again and found 8 instances where Ken had flown in the same Hudson that Robert failed to return in. They are all listed in January 1942 as follows...
7th - Sgt Hill was pilot on an A/S Sweep

20th - Sgt Hill was pilot on Formation Flying

22nd - F/Sgt Clark was pilot on Local Flying

22nd - Ken was pilot on Local Flying

22nd - P/O Lovell was pilot on Low Level Bomb Practice

22nd - Ken was pilot on Low Level Bomb Practice

26th - F/Sgt Clark was pilot on an A/S Sweep

28th - Ken was pilot on an A/S Escort to Convoy
The day after Robert failed to return, on the 29th July 1942, 2 Flying Fortresses landed at Benbecula so the Squadron could start converting from the Hudson's.