FLIGHT ENGINEERS
(Last updated: 08.04.12 - Frank Angel)
Here's the list of WWII 206 Squadron Flight Engineers, click on their photographs for their story...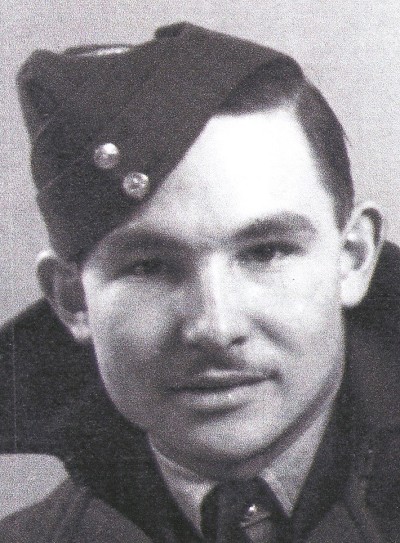 Frank Angel (W/O) by Nuala Angel (Apr 2012)
Frank Angel
Rank: Warrant Officer
Number: 916867
Joined 206: ??/??/??
Flew with Ken:
0 times


Born: 13/06/1919
Died: 10/01/2005
In February 2012 Nuala Angel I spotted a note on the Guestbook from Nuala Angel, Frank Herbet Angel's daughter who is 1 of 6 children of Frank and Greta Angel. It was a name I was immediately familiar with from my friendship with Jim Glazebrook whose own story is in 'Pilots: Part II'.
Nuala was able to provide a large number of photocopies of paperwork and photographs which you can find below.
Frank Angel
Warrant Officer - 916867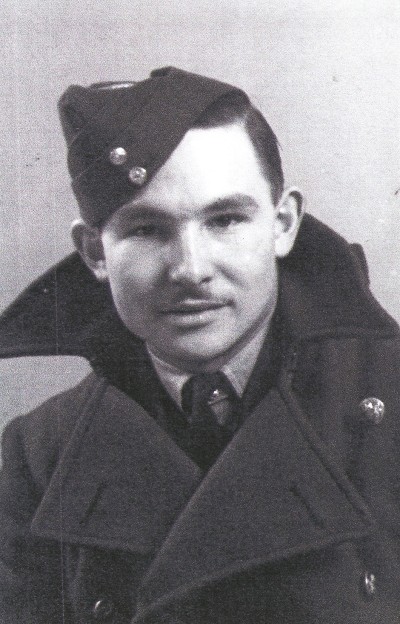 Frank enlisted in the RAF on the 4th March 1940 reporting for service that day.
Jim Glazebrook Link
We believe he trained in Nassau, Bahama's which would match Jim Glazebrook's experience in 1943, here's a potential photograph from that period and we can identify all but one of the men.
? - Johnny Boorman - F/S Hartwig - F/S Nick Nicholson - F/S 'Jock' Bain
Frank Angel - Doug Riley - 'Mac' McLean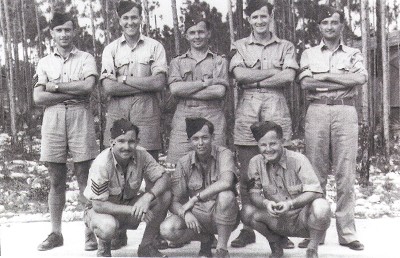 Arthur - Frank Angel - Vic - Ricky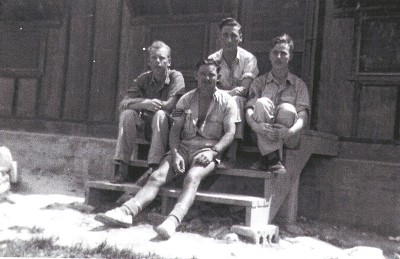 Frank joined Jim Glazebrooks crew and the extract below is from Franks logbook showing 6 flights with Jim in a Liberator, two of which were Anti Submarine patrols, one off the Shetlands, the other off the Faroes.
Logbook - August 1944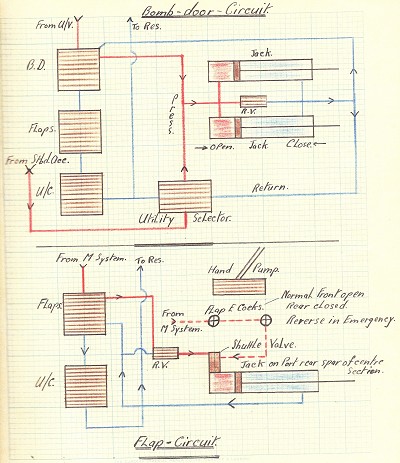 George Ellison - 'Frank' Smith - Jim Glazebrook - Frank Angel - 'Jock' Bain
George Ellison's story is in 'WOp / AG: Part III'
Francis Lumley Smith was one of Jim's Navigators
This photograph could well have been when they were based at the Azores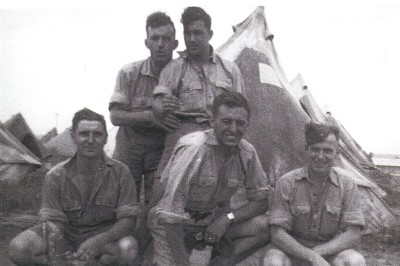 Liberator Crew - Leuchars
Frank's in the bottom left corner - Jim Glazebrook is standing 2 from right
This was taken prior to an all night operation and includes all the Ground Crew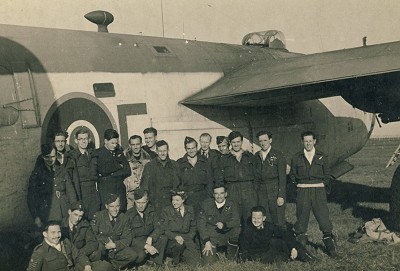 We're not sure where the following 2 were taken
Frank sitting on the deck chair on the left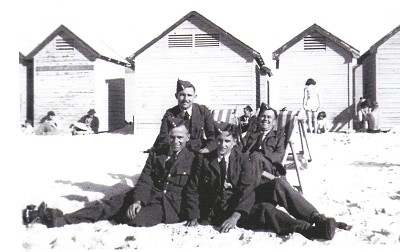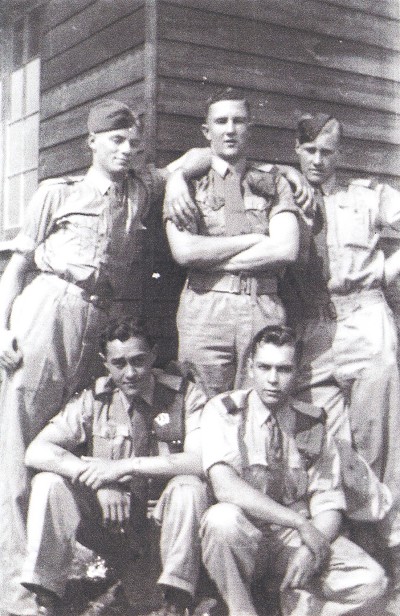 Frank was discharged on 26th June 1946 with a glowing record earning a Flight Engineers badge, this information can be found in Franks discharge certificate:
Character during service: Very Good

Character on discharge: Very Good

Degree of trade proficiency A: Superior

Degree of trade proficiency B: Satisfactoy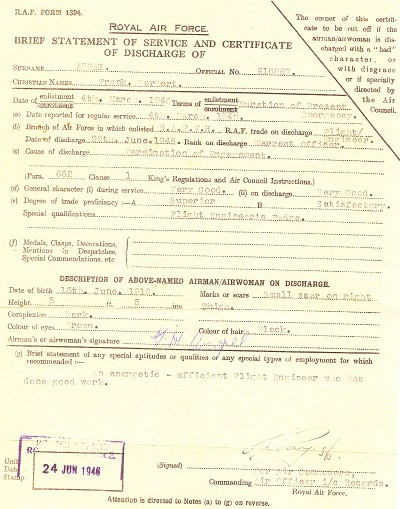 In the late 40's Frank emigrated to Australia, he had met his future Irish wife Greta in London before emigrating and she followed him over. They married on the 30th April 1951.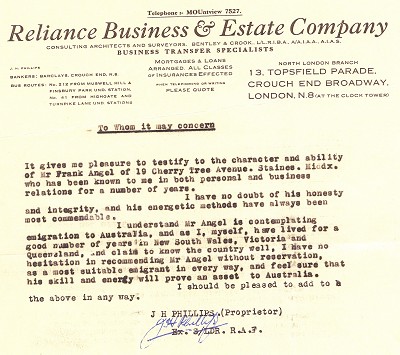 Frank and Greta
Wedding Day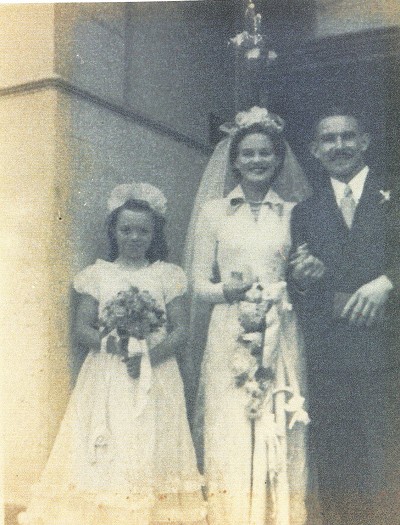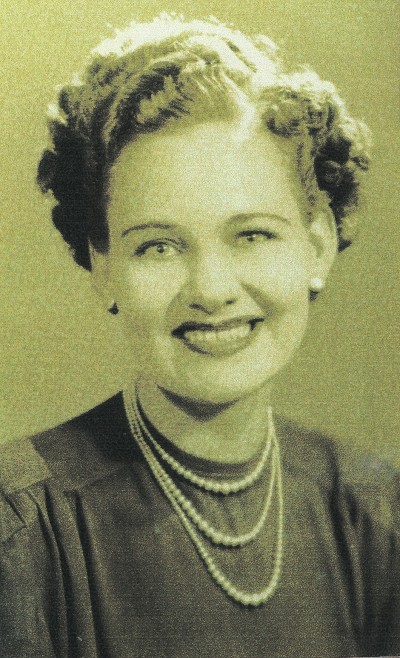 After spending 10 years in Australia they decided to move to Ireland and take up farming.
Sadly Frank passed away in January 2005 and Greta in July 2009