1943
(Last updated: 10.03.10)
Group 15 - 206 Squadron
(4th Aug - 7th Dec)
On the 4th of August 1943 the 206 Squadron was assigned to groups looking after different specific ocean areas around the U.K. No. 15 Group had its headquarters at Liverpool (Speke) and it looked after the Western Approaches and the Atlantic convoy routes. Usually the Squadrons operated as Detachments from several bases within that Group or were loaned out to other Groups for specific tasks.
Speke Airfield

In the time at Liverpool there are only 3 recorded flights, 2 of which were to and from Twinwood Farm which is in Bedfordshire.
Twinwood Farm

Detatchment 7 - Cranage
(19th Sept - 4th Dec)
RAF Cranage was originally intended as an aircraft storage facility but became No. 2 Air Navigation School and later Central Navigation School.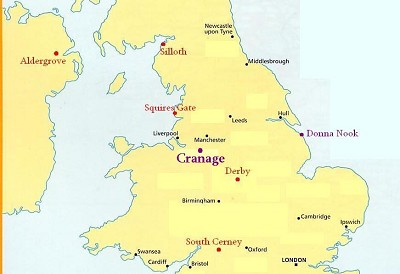 Initially the base was used for night fighters. Directly afterwards it was used for navigation training for Bomber Command. The main aircraft used were Airspeed Oxfords, Avro Ansons and Wellingtons. Next to the airfield was a Vickers-Armstrong shadow factory where hundreds of Wellington bombers were built, before being towed to Cranage for test flights and delivery to their units. Ken has only 3 flights recorded, 2 in an Anson and 1 in a Wellington. The base closed in 1957.
Central Navigation School - Cranage
Ken is on the middle row 1st on the left - signed by Ken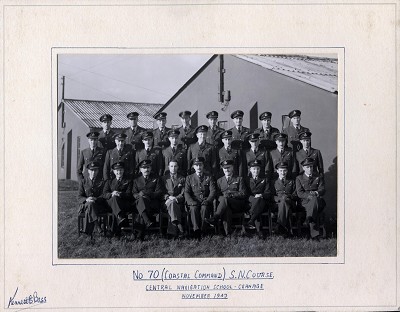 Coastal Officer Training Unit (COTU)
In Kens time at Cranage he is recorded as flying with Squadron Leader Kerr in a Wellington on the 6th November 1943.
F/LT McLundie - F/LT Bass - F/LT Jacobson
S/LDR Kerr - S/LDR Hibberd - S/LDR Flintaft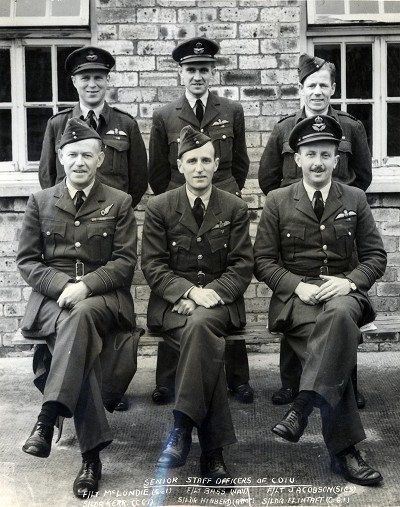 During Ken's time in Cranage he and Margaret celebrated their first Wedding Anniversary. In March 2010 Gran showed me the card she had painted and given to Ken on that day.
First Wedding Anniversary Card
September 23rd 1943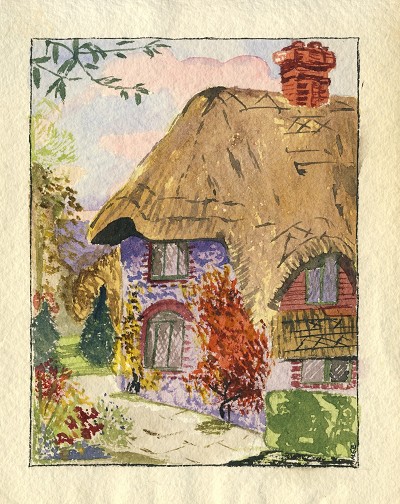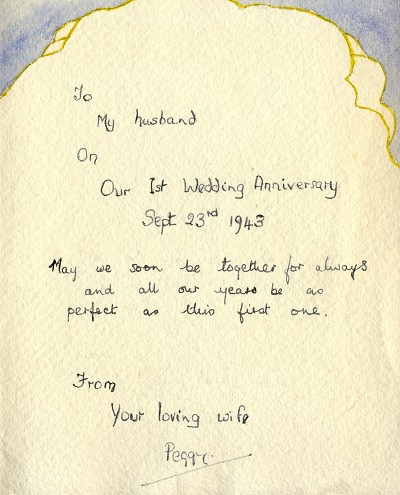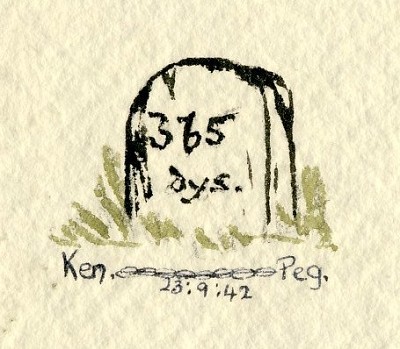 SHQ - Beaulieu
(8th Dec - 29th Feb 1944)
After Cranage Ken went onto Beaulieu, Beaulieu Airfield was built in 1942, opening in August with 19 Group and RAF Coastal Command.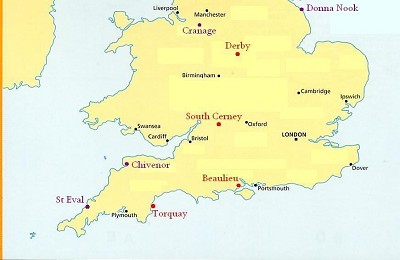 It was mainly used as a base for anti-submarine patrol work. Ken was here until February 1944 and it was at that point that it was transferred to 2nd Tactical Air Force for preparation for D-Day. Another change in command in March 1944 saw the arrival of the 9th Air Force/USAAF who stayed there until the end of August 1944. The strange thing is Ken has no recorded flights whilst at Beaulieu.
Aerial view of Beaulieu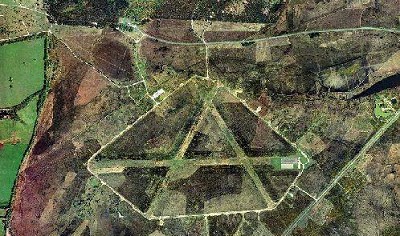 The runways were taken up in the 1980's but you can still clearly see where they were.
After being posted to Beaulieu, Ken and Margaret were able to live together as a couple for the first time since they were married. They shared rented accommodation with a Mrs Maycock in Lymington. During this time Ken was put on sick leave as he caught mumps from Margaret, she had picked it up from Broxbourne school where she had been teaching.
In January 1944 Ken celebrated his 28th birthday on the 17th January, Margaret painted the following birthday card for him depicting the Beaulieu airfield, their first car and their Lymington accommodation at Green Gates with Mrs Maycock. Gran first showed me this card in March 2010.
Ken's Birthday Card