PILOTS: Part I
(Last updated: 28.12.12 - John Owen)
Here's the first list of WWII 206 Squadron Pilots, click their photograph for their story...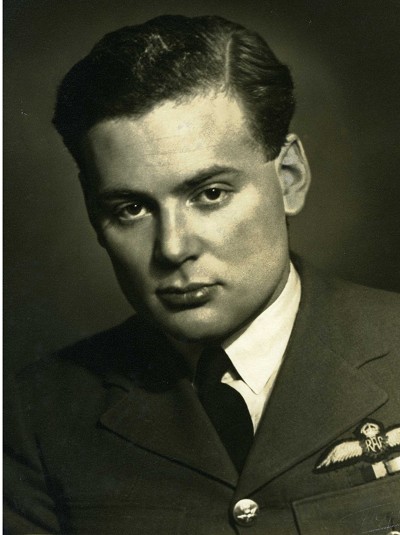 Lawrence Nelson (F/Lt) by Simon Nelson (2007)
Flew with Ken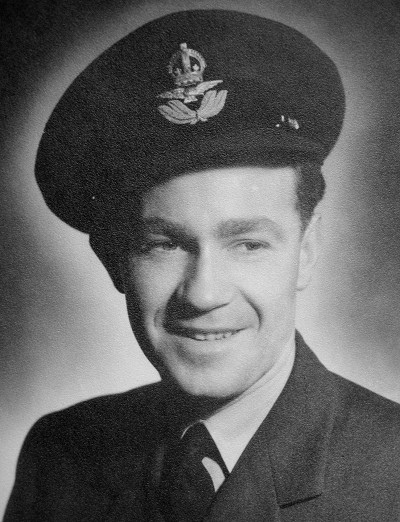 Eric McIlwrick (F/Lt) by Eric McIlwrick (2008)
Flew in Ken's Crew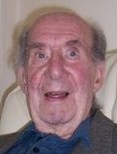 Joe Doyle (P/O) by Paul Banks (2008)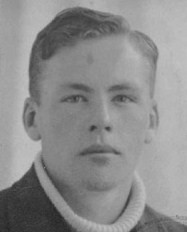 Geoffrey Turner (F/S)by Theresa Clarke (2007)

Maurice K Warren (P/O) by Chris Higgs (2008)
John Owen
Rank: Flying Officer
Number: 63800
Joined 206: 24/09/1941
Flew with Ken:
4 times


Born: 26/04/1921
Died: 15/12/1942
Links to other Memoirs
My Grandad in 'F/Lt Ken Bass' in the main menu

Eric Crowe in 'WOp / AG's: Part I'

Richard Thomas in 'WOp / AG's: Part I'

William Roxburgh in 'Pilots: Part III'
Way back in August 2006 I found a message on website forum from a writer David Clarke who'd left a message seeking information on anyone with links to 206 and Benbecula around 1942. After making contact I found David was looking into the history of his great cousin John Owen who flew a Flying Fortress IIA with a serial number FL453 'A'.
Flying Officer John Owen (RAFVR)
Service Number 63800
1921 - 1942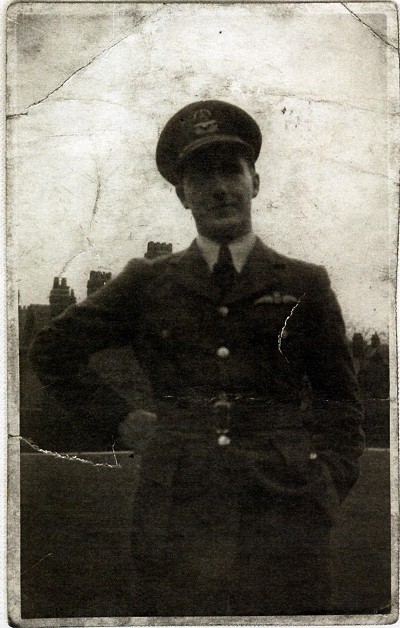 Sadly on the 14th December 1942, John and his crew failed to return from an anti-submarine patrol. I asked David if he'd like to submit a piece on his great cousin and he sent me the following information...
John Owen by David Clarke
"At 09-37 hours on December 14th 1942, 3 Fortresses took off from RAF Benbecula in very poor weather to provide cover for convoys ONS 152 and TA 29. Fortress IIA FL453 'A' was piloted by John. The aircraft was due back at 5pm on the same day, however, when no weather report was received from the aircraft at the most distant point of its patrol it was presumed to have been lost before 2pm on December 14th 1942.
The following day 3 aircraft were dispatched to search for the missing crew, but nothing was found of FL453. One explanation for the loss of the aircraft is that the barometric pressure could vary considerably between base and the area being patrolled and crews routinely descended to around 100 feet (30m) above the sea once on station and set their altimeters to zero feet. This gave them some reassurance that their altimeter was correctly set while providing a small margin of 'padding'. John may have flown into the sea while attempting this procedure in the bad weather."
Crew Details
F/O John Owen 63800 - Pilot - Runnymede War Memorial Panel 67

Sgt R.N.Hildred 1333535 - Pilot - Panel 85

Sgt R.Bentley 1115124 - Navigator - Panel 78

F/Sgt E.Crowe 964953 - Wireless Operator/Air Gunner - Panel 74

Sgt W.Shanks 1067932 - Wireless Operator/Air Gunner - Panel 93

Sgt W.J.Parnell 1163993 - Wireless Operator/Air Gunner - Panel 91

Sgt G.C.Wilson NZ/411113 - Wireless Operator/Air Gunner - Panel 118
John's Commanding Officer wrote
"Flying Officer John Owen joined 206 Squadron in 1941. His reputation for keenness and thoroughness in everything he undertook was unexcelled. He took part in the 1,000 bomber raid (Bremen 25.06.1942) and made 2 damaging attacks on U-Boats during his penultimate patrol. John enlisted in the Royal Air Force Volunteer Reserve as No. 980399 Aircraftman 2nd Class Aircraft hand/Pilot on March 5th 1940. He undertook training in the UK and Southern Rhodesia and was promoted to Flying Officer on February 12th 1942."
Awards, Campaign Stars and Medals
Flying Badge

1939/45 Star

Aircrew Europe Star

War Medal 1939/45
Fortress FL453 'A'
Fortress FL453 'A' was the 23rd of the 45 Fortress IIA's delivered to Britain rather than being built specifically for the RAF. It's USAAF serial was 41-9228 and it was assigned to the Cheyenne Modification Centre on May 26th 1942. It arrived at Dorval on July 1st 1942 and departed on July 10th arriving at Prestwick via Gander the following day under the command of American civilian pilot Dillon Mervin Teel. It was then flown to Burtonwood Repair Depot (B.R.D) 3 days later for the final modification and painting and delivered to Benbecula by a 206 Squadron crew on July 30th. It was 1 of the first 3 Fortress IIA's taken on strength.
Finally there's one amusing story about John that's recorded in Men of Coastal Command 1939-1945 written by Chas Bowyer:
"One Fortress pilot, Pilot Officer J.Owen, carried out a perfect straddle of a target with his depth charges (DC's) from 8000 feet on an unsuspecting whale-which cost him a small fortune in drinks in the Mess bar that night"
Regards, David
John Owen's W/Op A/G Richard Thomas
Richard has written a number of short stories covering some of his memories from his time in 206 Squadron, some of these are Operations that included John Owen, they're listed as follows:
'Pilots: Part III': William Roxburgh - 7 memories, 3 of which mention John Owen

'Wireless Op's: Part I': Richard Thomas - 1 memory which mentions John Owen
In January 2010 Richard Thomas provided me with an article he had written called 'Places and People - 1' which had a paragraph about John Owen. The article reads as follows:
Places and People
by Richard Thomas
"We met at No.1 C Operational Training Unit at Silloth, Cumbria in August 1941; Pilot Officers Willis Roxburgh and John Owen, Sergeants Ray Simpson and Richard Thomas. Four men from different walks of life and backgrounds; Roxburgh who had already been carving a career with the Anglo-Persian Oil Company, Owen who worked in Banking, Simpson who travelled the highways and byways of North Yorkshire selling office supplies and me, some 6 years younger than the others, who had barely set foot on the ladder which would lead to an architectural career. The RAF did a splendid job in welding us into a combat crew which was posted to Aldergrove in Northern Ireland, making the first operational flight together in Lockheed Hudson AM785 on 28th November 1941.
I have written previously about my flying experiences in WW2 but I would like to dwell for a moment on the man who was John Owen. Of the two pilot/navigators it was Roxburgh who had the steady pair of hands, cannot recall him getting into a flap in almost two years of taking part in the Battle of the Atlantic. John Owen was more mercurial in temperament; often thought of him as more fitted to the role of a fighter pilot; blue eyed, fair haired, a smile coming often to his face, quick of tongue, he was a delight to all who new him. Sadly, he lost his life, together with the members of his Flying Fortress crew when he ventured forth over the Atlantic in December 1942 never to return. Of all the events that took place in Wartime this was the one that left me with a sadness that has remained unabated to the present day."
John Owen's W/Op A/G Eric Crowe
It wasn't long before I was contacted by Richard Crowe, the son of Eric Crowe who was one of the crew members who died in the same Fortress crash as John Owen on the 14th December 1942.
Richard had been in touch with David Clarke as well and obtained this photograph that was taken the day before the fateful flight. The photograph was originally supplied to David by Robert Stitt. In it the crew are pictured with Flying Fortress IIA FL452 'G' in the background...
Fortress IIA FL452 'G'
13th December 1942
Back Row - F/Sgt E.Crowe - Sgt D.Bryan - F/O J.Owen - Sgt C.Neill
Front Row - Sgt R.N.Hildred - Sgt W.Shanks - Sgt W.J.Parnell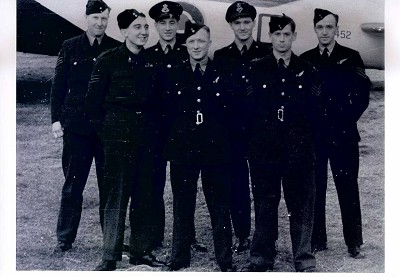 In September 2008, with the help of Richard Crowe I found another photograph of John Owen's crew, again in front of Fortress FL452 'G' on 13th December 1942, it was in 'Naught Escape Us' by Peter Gunn.
F/Sgt E.Crowe - Sgt R.N.Hildred - Sgt W.Shanks - F/O J.Owen - Sgt C.Neill - Sgt D.Bryan - Sgt W.J.Parnell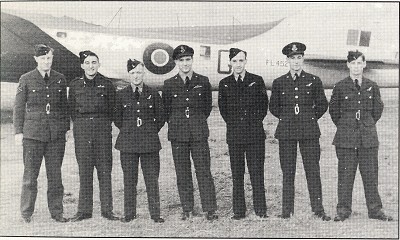 In 2012 Richard Crowe visited the UK and made a trip to Alderley Edge to St Phillips Church to find a memorial and plaque with John Owen's name on, here are 2 photographs from that visit.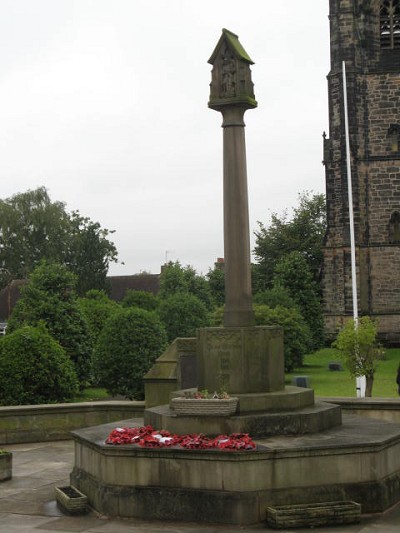 Links to Ken
With all this information to hand I cross-referenced Flying Fortress FL453 'A' with Ken's logbook and found that Ken had piloted that same Fortress on 3 separate occasions on 15th October, 22nd November and 29th November 1942.
I then checked for the name Owen in Ken's logbook and found the 4 following matches:
3rd August 1942 - Owen was Pilot, Ken was 2nd Pilot (Hudson AM734 'B')
5th August 1942 - Owen was Pilot, Ken was 2nd Pilot (Fortress FK208 'B')
5th August 1942 - Owen was Pilot, Ken was 2nd Pilot (Fortress FK208 'B')
6th August 1942 - Owen was Pilot, Ken was 2nd Pilot (Fortress FK208 'B')
I cross referenced the photograph above of Flying Fortress IIA FL452 'G' against my Grandad's logbook and found that Ken flew that aircraft on 5 occasions...
12th October 1942
16th October 1942
5th November 1942
13th November 1942
26th June 1943
David Clarke has also confirmed that John Owen was in one of the twelve Lockheed Hudson crews from 206 Squadron in the 1,000 Bomber Raid on Bremen. It was on the 25th June 1942 and their pilot was William Roxburgh. Ken was another pilot on this same raid with 206.
Lawrence Nelson
Rank: Flight Lieutenant
Number: 89324
Joined 206: 10/08/1941
Flew with Ken:
1 time


Born: 26/05/1920
Died: 28/12/1999
Links to other Memoirs
My Grandad in 'F/Lt Ken Bass' in the main menu

Eric Crowe in 'WOp / AG's: Part I'
Simon Nelson contacted me after he came across the site by chance and supplied me with lots of information on his father F/Lt Nelson, which led to further links to Ken. Information on much of what we found is detailed below but a brief summary is that he and Ken completed their final training at Silloth at the same time and flew together on the 16th October 1942, after comparing log-books it turns out that they flew with 22 of the same men, 15 of the same Lockheed Hudson's and 12 of the same Flying Fortresses.
Before joining 206 Squadron Lawrence Nelson had completed his basic flying training at No. 14 S.F.T.S Cranfield between the 6th August and the 6th December 1940, flying Magisters and Oxfords. Then he was sent to Cape Province in South Africa and was based at No. 61 Air School at George flying Ansons from the 4th February to the 26th March 1941. He completed his final training at Silloth with No. 1 OTU, this was the same place as Ken and it turns out that they were there at the same time! Lawrence was there from 17th June 1941 with Ken starting the day after, they were both there until the 9th August 1941 at which point they joined 206 Squadron. Eric Crowe (In the 'Wireless Ops: Part I' section) was also at Silloth at the same time.
F/Lt Nelson in a Flying Fortress cockpit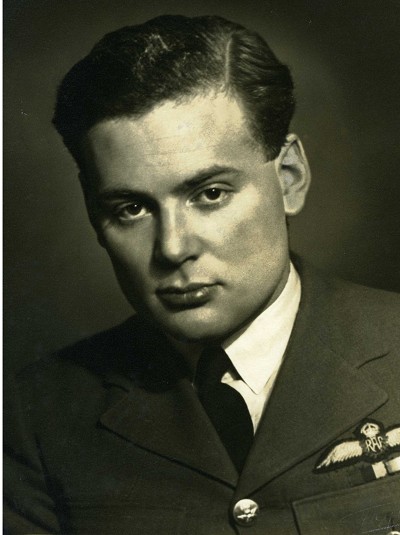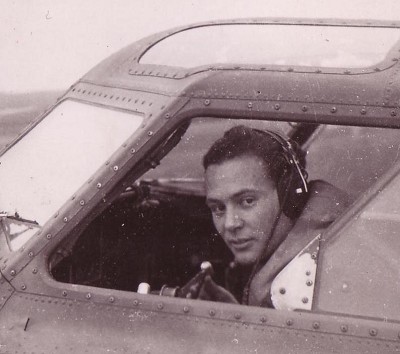 In the photograph below Lawrence is the first on the left, with Paddy Roach next to him along with the rest of his crew, they're in front of a Lockheed Hudson. You'll notice that the wheel hub caps are patterned. They were apparently painted red and white by F/Lt Nelson. The photograph is dated 6th August 1942, the last time F/Lt Nelson flew a Hudson was 2 days earlier on the 4th. This matches up with Ken as on the 5th they converted to the Flying Fortress IIA's. This Hudson turns out to be the same one Ken flew on 7 occasions, 3 times on the 2nd October 1941, once on the 9th and 22nd March, 9th June and 28th July 1942.
Believed to be Hudson AM587 'D'
Believed to be Hudson AM587 'D'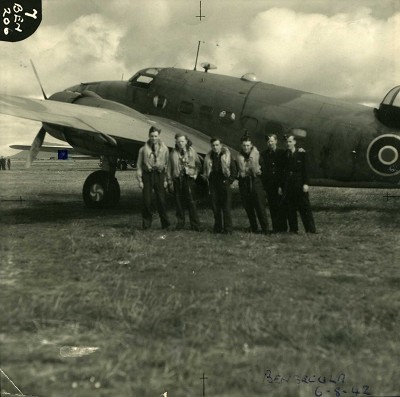 F/Lt Nelson is in the middle of this photograph with Paddy Roach 1st on the right, all in front of a Flying Fortress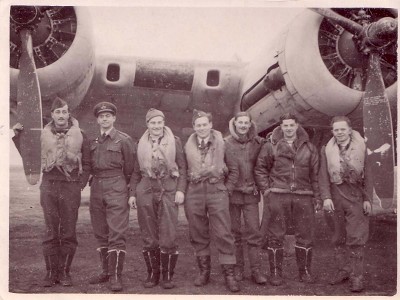 Links to Ken
Lawrence Nelson had served in 206 Squadron in Aldergrove and Benbecula so the odds were that he would have known Ken Bass. With that information I checked through Ken's logbook and found an entry in October 1942:

16th October 1942 - Nelson was the pilot, F/O Samuel and Ken were 2nd and reserve Pilots as well as 4 Crew and 16 passengers (Fortress IIA FL452 'G') with notes to say "To Burton Wood"

Simon was able to cross reference in Lawrence's logbook and confirmed the match!
In August 2008 Simon Nelson contacted me again with a couple of photographs of 2 Hudsons from his dad's collection. Here's the details and how they link to Ken
Hudson: AM706 'N'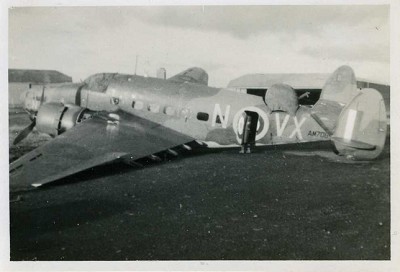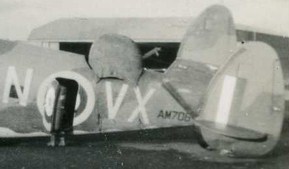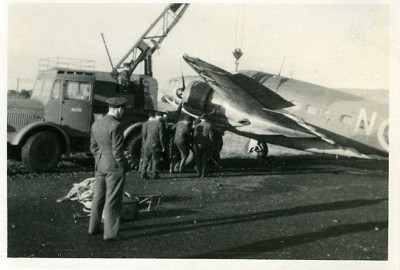 Simon believes these photographs were taken by his dad although he was never recorded as flying AM706, this incident happened on the 5th February 1942 and appears in the books 'Naught Escape Us' by Peter Gunn and 'Lockheed Hudson in World War II' by Andrew Hendrie. They both state the following...
"AM706 crashed on overshoot, Aldergrove 5.2.42"
Ken's logbook has a record of him flying this Hudson as 2nd Pilot on the 31st August 1941 on an A/S Escort to convoy (extract above). This was just 5 months before the accident.
Hudson: P5155 'J'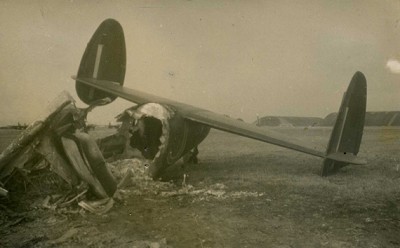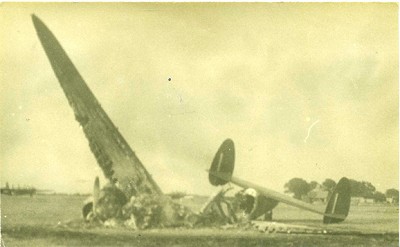 P5155 'J' was a Hudson that Lawrence Nelson had been piloting during his time at No. 1 OTU in Silloth before joining 206 Squadron, he was there at the same time as Ken. On the 1st August 1941 he had been on an night navigation exercise from Silloth via the Mull of Kintyre and Chicken Rock. When landing back at Silloth the Hudson ran off the edge of the runway and the port undercarriage leg collapsed resulting in minor damage and no injuries. His logbook was signed off by Wing Commander R.A.B Stone "Accident due to inexperience". Lawrence had spoken to Simon about it explaining that there were green lights on the dashboard that showed the wheels were down, they were really bright especially at night so it was common practice to place a cloth over them to avoid being blinded. On this occasion the cloth fell away blinding him at a crucial moment of the landing phase. To top things off when the Ground Crew were recovering the Hudson they somehow managed to set fire to it (possibly a discarded fag) and the aircraft was completely burnt out.
This incident also appears in the books 'Naught Escape Us' by Peter Gunn and 'Lockheed Hudson in World War II' by Andrew Hendrie. They both state the following...
"P5155 Swung on landing, u/c collapsed, Silloth, 2.8.41"
Ken's logbook has a record of him flying this Hudson as 2nd Pilot on the 28th July 1941 - Turret Firing (extract above). This was just 5 days before the accident!
Another find was that Lawrence also flew in one of Ken's Fortresses, Fortress IIA FK190 'J'. Lawrence flew this on 8 occasions; 20th May, 8th, 16th, 24th July, 16th, 27th November, 27th December 1943 and the 10th January 1944.
Fortress IIA: FK190 'J'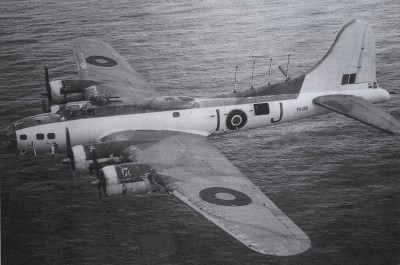 Simon supplied me with a list of all the names of the men listed in Lawrence Nelson's logbook along with all the different Lockheed Hudson and Flying Fortress aircraft serial numbers that he'd flown. I was able to cross reference that list with Ken's and found the following matches:
22 RAF Names

15 Lockheed Hudson aircraft

12 Flying Fortress aircraft
22 RAF Names
I validated the spelling of the names and the rank before stating a match
Name (Rank)
Ackerman (F/Sgt)
Chisholm (P/O)
Clark (F/Lt)
Coutts (Sgt)
Cowey (P/O)
Crowe (Sgt)
Dalton (P/O)
Delarue (P/O)
Goodyear (P/O)
Hards (W/Cmdr)
Hill (F/Sgt)
Name (Rank)
Lenton (Sgt)
Lovell (P/O)
Morgan (F/Sgt)
Nelson (Sgt)
Owen (F/O)
Patrick (S/Ldr)
Ritchie (Sgt)
Roberts (F/Sgt)
Roberts (F/Sgt)
Weir (P/O)
Williams (F/Lt)
15 Lockheed Hudsons
I validated the aircraft Code and Letter before stating a match
Code (Letter)
AM566 (F)
AM587 (D)
AM605 (K)
AM622 (L)
AM650 (T)
AM711 (U)
AM722 (G)
AM762 (S)
Code (Letter)
AM785 (C)
AM805 (W)
AM837 (N)
AM875 (U)
T9453 (U)
T9458 (H)
T9463 (R)
12 Flying Fortresses
I validated the aircraft Code and Letter before stating a match
Code (Letter)
AN520 (X)
FA695 (V)
FA702 (P)
FK190 (J)
FK194 (M)
FK195 (L)
Code (Letter)
FK208 (B)
FK210 (E)
FL451 (D)
FL452 (G)
FL457 (F)
FL460 (H)
Eric McIlwrick
Rank: Flight Lieutenant
Number: 1344091
Joined 206: 27/03/1943
Flew with Ken:
34 times


Born: 17/06/1921
Died: 24/10/2009
Links to other Memoirs
My Grandad in 'F/Lt Ken Bass' in the main menu

Ken Roberts in 'Navigators: Part I'

William Rundle in 'WOp / AG: Part III'
I first came across F/Lt Eric McIlwrick after seeing a message on my guest book in September 2008 from Eric's brother Maurice, I immediately checked it out to find where I had referenced the name 'McIlwrick' and found it in 'Ken's Aircraft' section. I was amazed to find out that Eric was the same person that is mentioned in Ken's logbook and that he was part of the crew that is photographed in Fortress FA702 'P'. Throughout September 2008 I was in touch with Eric and Maurice, and between us we have pulled together the details below…
In October 2009 Maurice contacted me with the very sad news of Eric's passing. He was a great chap to talk to and always enthusiastic with our investigations. I'm so glad I was able to speak to him in his last year.
F/Lt Eric McIlwrick
Eric was with 206 Squadron at the same time as Ken and on investigation we found that they had flown together on 34 occasions. It turns out that he joined Ken's crew as 2nd pilot from March 1943 to July 1943, and it was at this point that Ken completed his tour of duty with 206 Squadron. Eric was now in his 88th year when I first spoke to him, with a younger brother 'Maurice' in Edinburgh, a daughter in Berwick & granddaughter in Edinburgh.
F/Lt Eric McIlwrick
17/06/1921 - 24/10/2009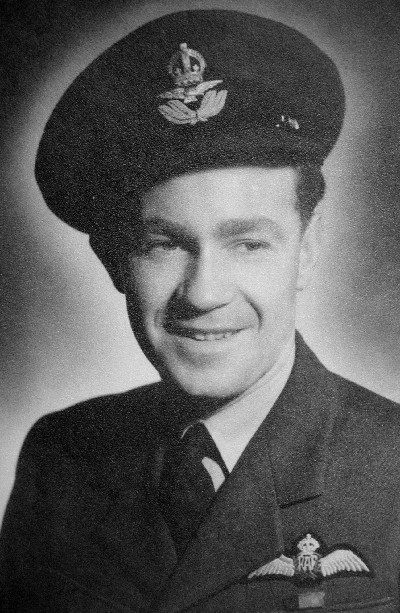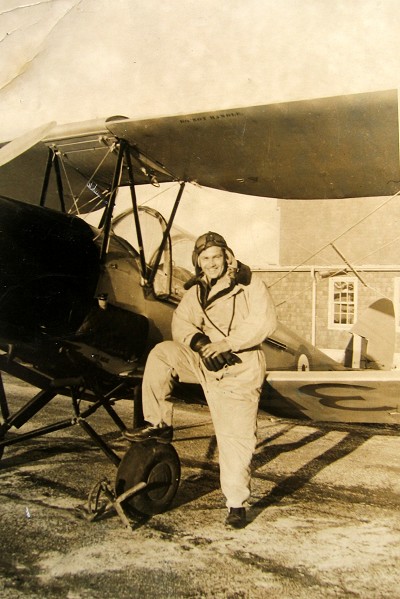 Eric started out on his RAF journey in August 1941 where he was based at Paignton for initial training: (ITW) Initial Training Wing. From there he went over to Canada to No. 31 (EFTS) Elementary Flying Training School at De Winton Calgary, Alberta. Eric stayed in Canada for a while and after EFTS he went over to No. 15 (SFTS) Service Flying Training School at Claresholm, Alberta. His time in Canada didn't end there as in November 1942 he went to No.1 GRS at Summerside, Prince Edward Island which was where Ken had been nearly 2 years earlier. It was in February 1943 that Eric joined 206 Squadron in Benbecula, in October that year they moved to the Azores. Eric believes he moved to 220 Squadron around June 1944, 220 were also based in the Azores, Robert Stitt (In the 'Others' section) has the transfer taking place in March 1944.
Eric held every rank from LAC to F/Lt apart from Corporal and flew many different aircraft such as Ansons, Oxfords, Fortresses, Martinets, Tiger Moths, Halifaxs and even a Hurricane. Eric has many stories from chasing off German aircraft whilst protecting convoys to the hard job of locating and escorting a ship Winston Churchill was on when he was making a visit to the American President in America
The Azores
Eric and Robbie (Ken Roberts who had also been Grandad's navigator is in the 'Navigator' section) were some of the first 206 Squadron members to arrive at the Azores in October 1943, it was a scrappy airfield that was unfit for purpose. They had to re-lay the runway which was completed using what seemed to be big strips of Meccano pieces. They had commandeered a nearby office to stay in and there was a Wing Commander Cook who was often greeted with "looky looky looky here comes Cooky" just out of his earshot. Robbie was Eric's Navigator and he was really well prepared as he had filled tea chests full of things like blankets before they had left. They all had to queue together in one long line for food which was often corned beef from a billycan, and the Group Captain 'Oulton' had queued up behind Eric which was very unusual. They were billeted in tents of which there seemed to be hundreds. There wasn't much locally apart from a café which was a short walk, they also used to go across the runway by horse and cart to a local wine merchants that stocked mushrooms as well as wine. The hangers there were built into the hill and Eric recalled a funny memory where a USA pilot landed on the runway, having dismounted the aircraft the pilot removed her helmet to reveal long flowing blond locks. It happened to be an American woman pilot that got a big cheer particularly from the ground crew, I also gather she was a hit back in the mess.
Fortress ditching into the Atlantic
On this Operational night, Eric was stationed in the Azores with 220 Squadron having moved over from 206 March 1944. They had been flying in B-17 Fortresses that had 4 depth charges under the wings and 2 long range fuel tanks in the bomb bay meaning they could fly for longer. This Operation was an Anti Submarine sweep on the 25th July 1944 in Fortress FA707 'Z' and it was going to be a rough one. The troubles started at 23:10 when their number 1 engine cut, just 15 minutes later at 23:25 number 4 engine cut. It wasn't too long before the third engine cut, it was number 3 engine at 00:01. With 3 engines down there was the realisation that there was nowhere to go but the sea. Sure enough at 00:15 Eric had to ditch FA707 'Z'. The Fortress went down silently and they ditched into the Atlantic with the 1 engine still running, it was pitch black and drizzling, they were 100 miles from base and it was a terrifying experience. Eric had a real struggle with his headphones and helmet but was eventually able to wrench them off, hurting his neck in the process. He was able to get out of the front window whilst the rest of his crew, 8 in total, managed to get out. There were umpteen Fortresses overhead that kept up the contact whilst a Liner homed in on them. They were spread over 2 dinghy's and at 6:00am a Hudson of 269 Squadron dropped a lifeboat. It was at 10:00am that the Liner found them, it was a Portuguese Liner called 'Lourenco Marques'. They had to climb up a ladder to get into the Liner, Eric managed to get to the top but was really tired and slipped, a Navy man at the top was able to grab him by his hair at which point he steadied himself to get all the way in. The Liner was lined with personnel and it was treated as quite an event. He was given clothes and stayed in the Captains cabin. They were on the Liner overnight and taken to the capital Ponta-del-Gada in San Minguel where they arrived at 4:00pm, to their surprise they were interned (taken prisoner) as there was no agreement outside the 3 islands in the Azores. After the problem was rectified they got back to base and Eric went to find and thank the pilots involved in their search, the Hudson pilot F/O Smith said he'd never seen dinghy's go so fast to a lifeboat, they had created a large wake behind them as they had paddled for their lives (literally).
Eric's logbook has a small section in it along the lines of:
July 25th 'Z' - Self - Crew - Ditched 00:15 on 26th No casualties. Award Airmanship…
They later found out that another Fortress had made it back on 2 engines as 2 had failed, on investigation at Thornaby where Fortresses were overhauled, they found those 2 engines had propeller drives sheered through, Eric believes it was an act of sabotage as it turned out that their Fortress had 3 engines replaced before they had gone out, they hadn't known about it and all 3 had packed up. On their return to base they went on a rest at a hotel at Furness for 2 weeks or so where they had relative luxury and an aircraft was sent back to pick them up. They senior officers weren't sure how the crew would react getting back to flying so they were then put on Strike crew, the story goes onto how he was on the runway about to take off when they requested he stop at the end of it to pick up a bag of Penicillin. He was then ordered to take the Penicillin to a surgeon at Saint Angra but the runway was really short, there was a valley at one end and rocks at the other.
Links to Ken
After establishing the link to 'McIlwrick' I checked my resources. In Ken's scrapbook he had made after the war, there's a photograph of Fortress FA702 'P', the link here is that it states it was taken on the 11th May 1943 which is recorded in Ken's logbook as follows…
11.05.43 - Fortress 'P' FA702, Pilot - Self
Crew - Sgts Mcilwrick, Hunt, Justice, F/Sgts Morgan, Roberts - From St Eval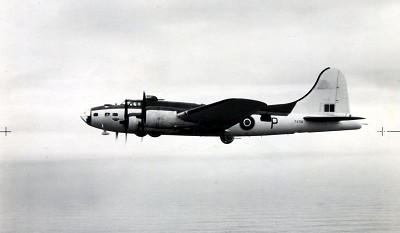 This information tells us that Eric is also in this photograph! I then checked Grandad's logbook records and found the following matches to 'E.McIlwrick' in 1943…
March 27, 28, 29, 31

April 3, 9, 13, 17, 22, 22, 23

May 3, 7, 9, 11, 13, 14, 18, 22

June 17, 19, 20, 26

July 1, 1, 1, 5, 9, 10, 11, 13, 16, 21, 22
I also noticed Eric was promoted between 22nd May and 17th June as he goes from Sgt to F/Sgt
This highlights that Eric became part of Ken's main crew from the 27th March 1943 as the previous 2nd pilot 'Ranald Anderson' is no longer listed, I understand Ranald went onto have his own crew. Eric appears as Grandad's 2nd Pilot on almost every operation right up to the final 2 flights Ken had in 206 Squadron before he had completed his 'tour of duty'. It's at this point that the Squadron records have Eric flying as 2nd Pilot with 'P/O Alan Marriott' from the 3rd August 1943
William Rundle
Whilst investigating another story on a Wireless Op / Air Gunner called William Rundle I came across a photograph of William and a crew in front of a Flying Fortress 'D'. After much investigation the crew below not only had William Rundle in it but Ken and Eric too. I posted a blown up copy of it to Eric and he promptly telephoned me back confirming he was indeed the chap standing next to William Rundle and behind Ken!
I checked through Ken's logbook for any records of flying in a Fortress with aircraft number 'D'.
Sure enough there were 7 flights in total in FL541, 5 of these had William Rundle listed. On each those 5 flights the following men were also all present along with Ken and William: Eric McIlwrick, Ken Roberts, Hunt, Justice.
13th April 1943

19th and 20th June 1943

16th and 22nd July 1943
With this information I am able to name 5 of the 7 crew members below.
Flying Fortress FL541 'D'
Benbecula 1943
William Rundle - Eric McIlwrick - Unknown - Hunt
Ken Robers - Ken Bass - Unknown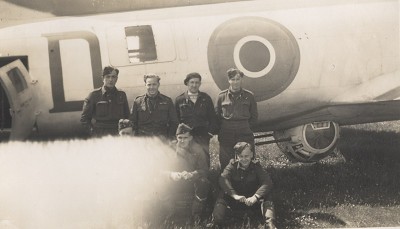 Eric's Brother: Hamish McIlwrick (1915-1943)
Whilst chatting to Eric and corresponding with Maurice I found out that they had an uncle Hamish who was also in the RAF during WWII. Hamish was 7 years older than Eric and was in Canada at the same time as Eric. He had recently got his flying wings and requested to go on a cross country flight, he arranged it so he could go and see Eric. One day Eric arrived back at his billet and there was Hamish sitting there. He was very popular with the rest of the guys as he'd just got his wings, they all wanted to question him over a few beers that night! Sadly Hamish died in 1943 only 28 years of age on a bombing raid over France.
This is his story as told by Maurice
This is a strange story of coincidences when Sheila and I made a visit to France to try find his grave in 1991.
However this story requires a little preamble to allow a full understanding of the events leading up to our visit to France.
Hamish trained as a pilot early in the war spending about nine months in Calgary, Alberta. He received his wings while my brother Eric was also training as a pilot near Calgary. Their meeting in Calgary was to be the last time they met. Hamish joined Bomber Command and carried out a number of sorties over Europe while Eric, his nephew, was posted to Coastal Command, and was involved in air/sea rescue work. In 1943 Hamish made a trip over the West Side of France with a crew of four and a passenger. The purpose of the mission is unknown however the plane either crashed or was shot down during the night and four died leaving one survivor. The survivor managed to walk to a house in the wood near where they had crashed and obtained shelter. In the morning the German soldiers came looking for any survivors and took away the fifth member who was immediately sent off to a Prisoner of War Camp in Germany without really knowing where he had landed in France. The Royal Air Force authorities communicated with all the dependents saying that the airmen were missing presumed dead.
After the war the son of one of those who died, a Brian Arnold, decided to try to find what happened to his father and eventually discovered the name of a village near the wood where the crash had occurred. He wrote to the mayor of Vivy asking if they knew of any crashed aircraft near their town. The school headmaster was recruited to interpret the letter and produced a reply, which confirmed that the villagers had in fact looked after a plot of land in a wood marked by a propeller where four airmen had perished. That left the problem that there had been five in the plane, which was explained by the schoolmaster that there had been a survivor who was made a prisoner of war. A little more detective work revealed that a Joe Bailey had ended the war in a German camp and eventually was traced to his home in Hull, England.
The remains of the airmen who perished had been removed to a cemetery in Saumur, the nearest large town which is on the river Loire. However the villagers decided to renovate the original grave site and held a special service in 1982 and invited the relatives who had by now been located including my Aunt. She felt unable to attend but struck up a correspondence with Madame Bluteau one of the people who had set up the memorial originally. The correspondence was difficult, as neither knew each other's language! But it continued until my aunt's death. With this knowledge Sheila and I decided in 1991 that as no McIlwrick had so far visited my uncles grave we would try to put this omission right.
We made a holiday of the expedition starting from Paris where we hired a car and set off for Vivy, stopping overnight on the way to Saumur. Vivy turned out to be a fairly small village of just one street.
We did have Madame Bluteau's address to whom my Aunt had written for many years, so called on her at her house deep in a rural setting. She was clearly surprised to find us on her doorstep and we spent a couple of hours trying to communicate in sign language with her. She had suffered a stroke and was unable to leave her house but led us to understand that the grave in the wood no longer existed. We left somewhat disappointed and traveled on to Saumur where we had booked a hotel. It was about 4pm so we decided to visit the marvelous fairy like chateau on the outskirts of Saumur and high above the Loire River. We discovered the building was about to close for the day, so inquired if there was a cemetery in the town where airmen may have been buried who had crashed in a wood during the war. This was difficult when the receptionist spoke no English! At this juncture fate stepped in to help, one of the guides leaving work happened to pass and the receptionist realised that she spoke English and called her over. The same question was posed and too our amazement she replied "you must know Joe Bailey the survivor of the crash"! After a little discussion we realised that we had made contact with the one person who could help us in a town having a population of about 33,000. She explained that her great uncle had been the person who took in Joe Bailey the night of the crash and that her parent's house was quite close to the wood where the little tomb still stood. She offered to guide us to the spot, so we followed her car back to Vivy, then to the wood.
Her parents had befriended Mr. Bailey and his family when they came to Vivy in 1982 for the commemoration service and they had remained friends. She, Natalie then 26 had spent a few months in Hull with the Baileys improving her English. Since her marriage she had been working as a guide at the Chateau and was just coming off duty when we met her
The grave was in a beautiful spot and was neat and tidy with recent flowers. Natalie then took us to her mother's house where we also met her sister. She then telephoned to her brother-in-law, Noel Baudouin, who was the headmaster who had translated Mr. Arnold's original inquiry about 1980. He had also been at the ceremony in 1982 and was able to tell us about it. Natalie produced her parents' photograph album with pictures of the ceremony and also a photo of Hamish, Arnold and two others in their uniforms, presumably sent to them by Joe Bailey at some time.
The next day Natalie and her mother took us to the cemetery in Saumur on the outskirts of the town where we found the graves of 10 airmen, two planes had been shot down on the same night.
We laid some flowers on the grave and wondered at the coincidences, which had brought us to be in front of our relation's grave stone in the middle of France.
Joe Doyle
Rank: Flying Officer
Number: 976732
Joined 206: 19/10/1944
Flew with Ken:
0 times


Born: 19/02/1921
Died: 06/10/2008
Paul Banks originally contacted me in November 2007 after seeing the website, he had been doing some research on his friend and neighbours war service from WWII: Joe Doyle. Joe has a daughter Catherine Wolverton and grandchildren out in Alaska and a son and grandchildren out in Los Angeles.
In August 2008 Paul supplied me with all the information below along with this photograph of Joe. Sadly Joe passed away on the 6th October 2008 and his funeral was held at St Paul's Church in Ayr.
Joe Doyle
7th July 2008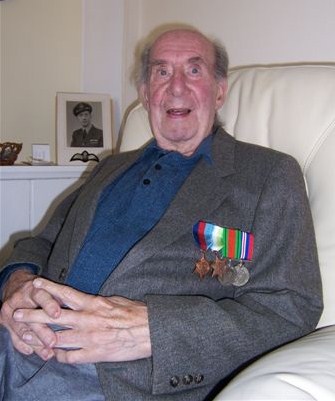 Joe served in the RAF from March 1941 to June 1946. Following training and then a period as an instructor in Canada (Medicine Hat No. 34 SFTS) he joined 206 Squadron on the 19th October 1944 where he served until June 1946.
Joe Doyle
Non Commissioned Officer (NCO) Flying Officer 1946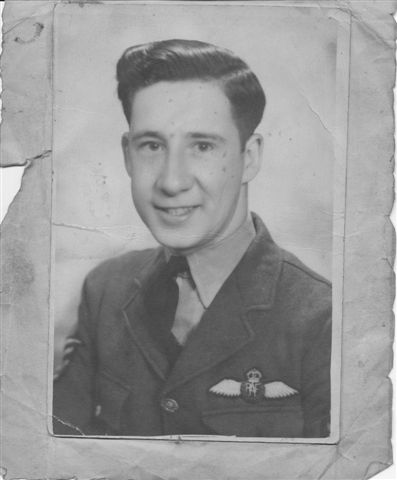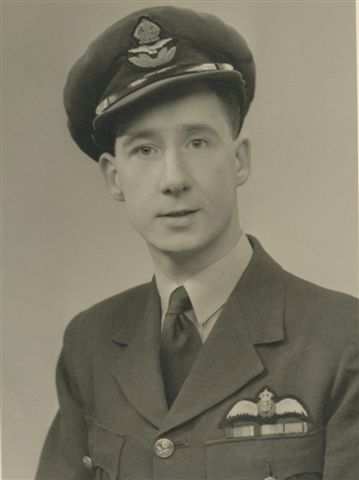 Joe 'passing out' on the award of his Flying Badge
8th May 1942
Front Row - 3rd from left - Joe Doyle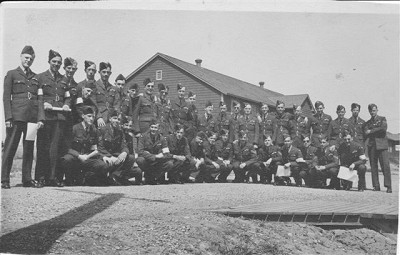 There is also an instructor's photograph that's taken in Medicine Hat flying training school in Canada, Joe's instructor is also in the photograph, a F/Lt Stubbs
Back Row - 5th from Left - Joe Doyle
Front Row - 7th from Right - F/Lt Stubbs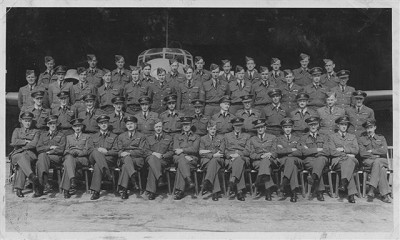 Joe completed 90.35 day operational hrs and 49 night operational hours over 13 operational sorties. Paul also confirmed Joe completed 820hrs / 255hrs of non operational flying hours.
He had been shot up quite badly on a few occasions and there was one time when he crash landed at Banff airfield after a raid over Norway and nearly hit Max Aitken's house who was the then CO of that airfield.
Joe's Crew
In August 2008 Paul supplied some more information on Joe's crew members including a copy of an official record of an operational flight on 12th February 1945. Here's the detail:
Davy Gow: Navigator

Walter Bryson: Wireless Operator / Air Gunner (returned to Prestwick and opened a garage)

'Hawkeye' Hawkins: (thought to have been an English bank manager: Died 02.12.1944)

'Dumbo': Tail Gunner (named because "he had a big hooter"- Died on a raid)

Capt. G Prinsloo: Co-Pilot (SAAF South African) Joe's Squadron Leader at the time was also a South African and he had asked Joe to "take Prinsloo under your wing"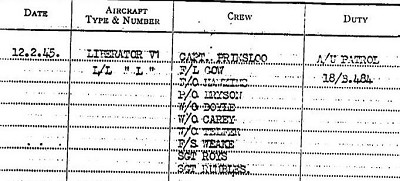 Joe remembers a raid on a U-Boat base in the Skagerak, Bornholm Island in Norway which was a really dangerous raid. He also talks about a ride up the Skagerak and 'Hawkeye' Hawkins calling for a 'Dummy Run skipper?' Joe's response is too raw to print but the request was swiftly denied and the bombs were dropped on the U-boat and they turned for home after taking fire. There were serveral attacks on U-Boats at the enterance of the Skagerak with a few sunk, U-319 was attacked and sunk by a Liberator of 206 Squadron on the 15.07.1944. A further 8 U-Boats were sunk in the Skagerak itself by various Squadrons. On the map below you can see where Joe was flying - between Denmark and Norway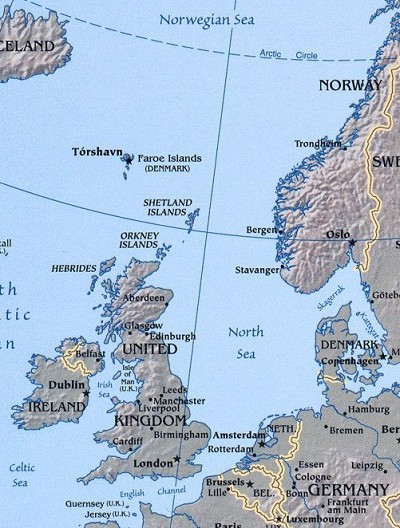 Here are more photographs of Joe and fellow crew members
Liberator: Marco Polo
Left to Right (Feet dangling is Flight Engineer Dave Weakes) - Navigator - Joe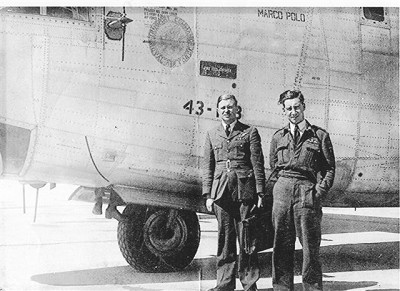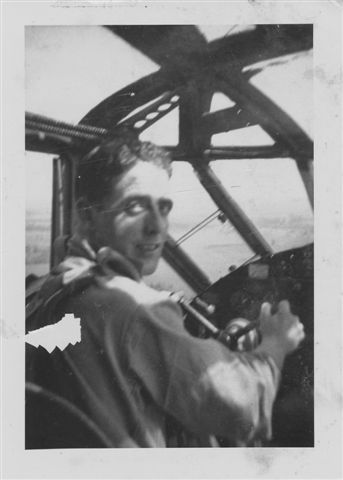 In January 2010 Joe's daughter passed a copy of the following photograph onto Paul. It looks like it's a Liberator crew as there's 11 of them.
Liberator Crew
Back Row: Unknown - Unknown - Unknown - Joe Doyle - Unknown - Unknown
Front Row: Walter Bryson - Dumbo - Capt Prinsloo (SAAF) - Unknown - Unknown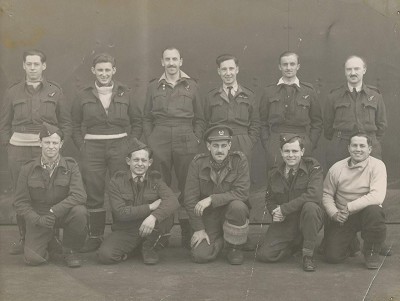 In April 2008 Paul sent me this photograph of him and his wife Pat on a cruise.
Paul and Pat Banks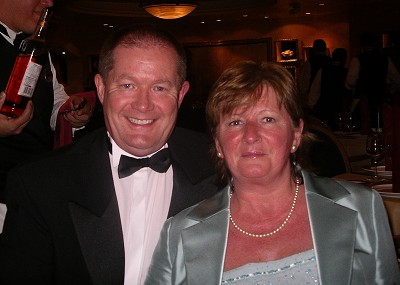 Investigation
Joe had an old typed manuscript on the squadron that Paul kindly posted onto me, I have included a full copy of this manuscript within the '206 Squadron' section. It's really interesting as it contains some history about the squadron, a long list of awards and sadly a long list of the casualties.
I was excited to find a section that was written about Ken (Grandad) as follows...
206 Squadron Manuscript: Extract
"Another example of co-operation with the Navy is provided by the Squadron log for the 23rd of January 1943, 3 aircraft on patrol 'B' (P/O Hill), 'G' (P/O Weir), 'E' (P/O Bass), were making independent anti-submarine searches when they received a message to the effect that the convoy 'Laconic' had scattered and was proceeding independently. The aircraft were instructed to 'get particulars' of all merchant vessels sighted. So the Navy's aerial sheep-dogs got to work, backwards and forwards through the area allocated and to such good effect that, by the end of their patrol 21 merchant vessels had been sighted, identified and their positions logged. Throughout the next few days the ships were watched and guarded, until the convoy had completely reassembled and the surface escorts were once more in position"
I was able to check this in Ken's log-book and confirmed that on this Operation it was listed as a Anti Submarine Sweep and Shipping Search, he was piloting Fortress FK210 'E' with the crew listed as:
Anderson

Morris

Morgan

Hunt

Roberts

Dalton
Geoffrey Turner
Rank: Flight Sergeant
Number: 564783
Joined 206: 19/07/1936
Flew with Ken:
0 times


Born: 08/11/1914
Died: 18/05/1940
Theresa Clarke contacted me after 'doing a Google' as she was looking into her husband's grandfather's history. Geoffrey Turner was an only child, originally from India born on the 8th November 1914 in Simla. At the age of 7 he was sent to boarding school in England and at 16 he joined the RAF, 5 years later Geoffrey married Edna.
Theresa obtained his service record and can confirm the following.
2nd September 1930: Enlisted

8th November 1932: Serice commenced

25th September 1934: Recommended for training as an Airman Pilot

21st January 1935: Passed fit for training

6th May 1935: Became a Pilot

16th February 1936: Promoted to Sergeant

19th July 1936: Joined 206 Squadron, posted to Bircham Newton

1936: Comments "Concientious, capable pilot"

1937: Comments "Efficient & dependable"

17th July 1939 - 11th January 1940: Detached to 233 Squadron, back to 206 Squadron
He was 5 feet 7 and a 1/2 inches tall with a 33 inch chest, he had light brown hair, blue eyes and a fair complexion.
Geoffreys Pilot Licence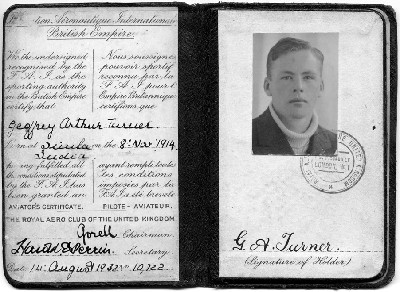 He was the pilot of a Hudson that on the 18th May 1940 at 2300hrs left Bircham Newton on a bombing raid to Hamburg, 2 Hudsons failed to return and F/Sgt Turner's was one of those. In September 2008 I found the Hudson F/Sgt Turner failed to return in was Hudson N7329 'I', the other Hudson that failed to return from the same raid was N4700.
The Crew
F/Sgt Turner

Sgt Abbot

LAC Tomlinson (Walter Austin: 550609)

P.O. Lennox-French
Letter: 23rd Sept 1940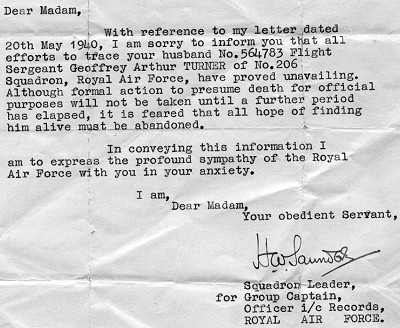 Theresa was able to supply me with the following photographs.
Geoffrey and Edna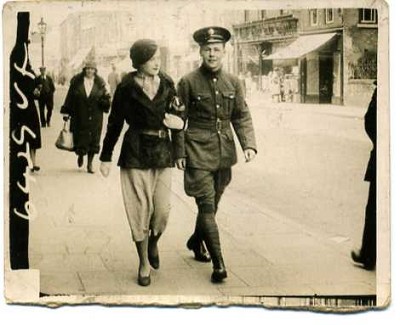 As Ken didn't join the 206 Squadron until 1941 there are no records of Geoffrey in his logbook, however within the National Archives file AIR 27-1223 the incident is recorded and F/Sgt Turner is named.
On further investigation he's also named on page 37 of Peter Gunn's book 'Naught Escape Us' that covers the 206 Squadron history and the fact that May 1940 was a terrible month for the Squadron, due the loss of 6 Hudsons. Theresa also had these images...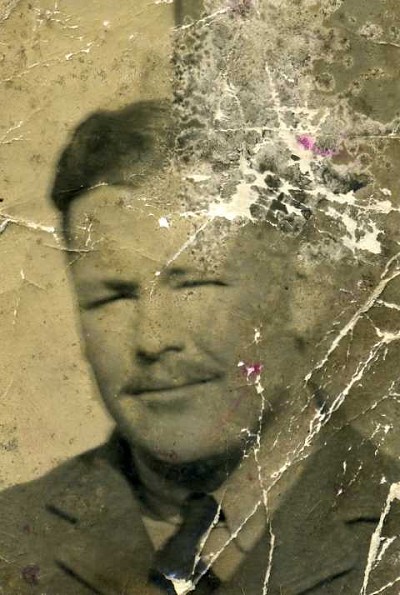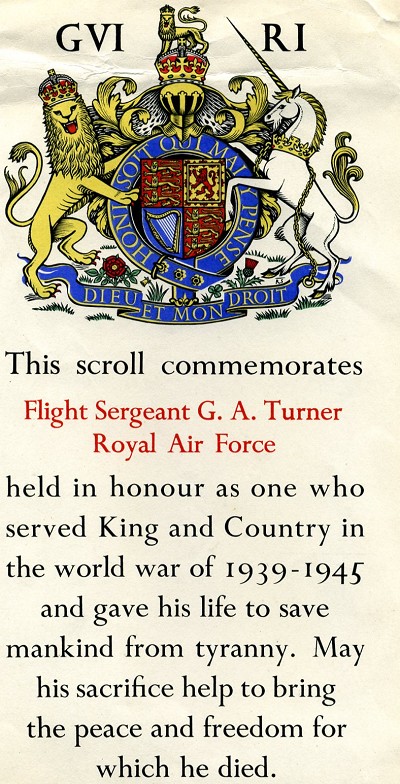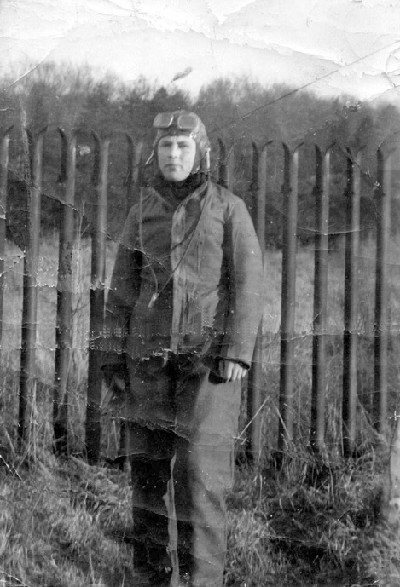 Geoffrey's name is inscribed at Runnymede Memorial part 14 along with LAC Tomlinson one of his crew
In October 2009 Teresa provided the following photograph of a memorial bench dedicated to Geoff at Bircham Newton.
Geoff's Bench and Great Grandchildren
Ben - Rosie - Josh - Martha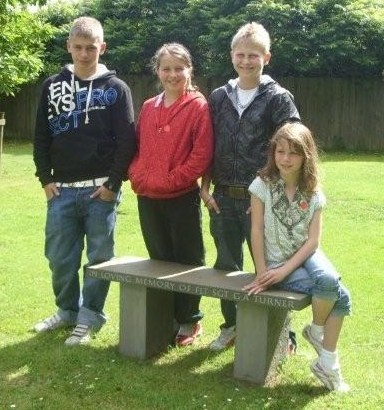 Maurice K Warren
Rank: Pilot Officer
Number: 79560
Joined 206: ??/??/19??
Flew with Ken:
0 times


Born: ??/??/19??
Died: 20/03/1941
Links to other Memoirs
John Waterman in 'Pilots: Part 2'
The following information was supplied in August 2008 by Chris Higgs whose stepmothers brother was P/O Maurice Warren. Very little was initially known of the following incident, we have found out additional facts since, but any further information is always welcome.
Maurice flew with 206 Squadron during the early part of World War II but was killed in action on the 20/03/1941, it was initially believed they were shot down and crashed in Ireland. Having referenced the 'Roll of Honour' list within the 206 Squadron section, there are 3 other men named on that same date as follows...
J.Fulller (83722) - KIA

C.H.Funnell (550862) - KIA

F.L.Holyoake (751825) - Injured
We assumed that these 4 men were part of the same Hudson crew but were not sure at first. In September 2008 I found reference to the incident in the 206 Squadron Archives and found the following references to Maurice Warren...
12th March 1941: Flight in Hudson P5148 (Bircham to Aldergrove)

13th March 1941: Flight in Hudson P5148 (Local familiarisation flight)

20th March 1941: Convoy - Crashed after take off. Crew of 4 killed


I then checked Hudson AE611 in the books 'Naught Escape Us' by Peter Gunn and 'Lockheed Hudson in World War II' by Andrew Hendrie and they both record the following...
"AE611 - Dived into ground after night t.o., Aldergrove 20.3.41"
Chris' stepmother made a scrapbook in memory of her brothers sacrifice and the following photographs have been taken from it...
P/O Maurice Warren
(Bircham Newton, he's holding the pigeons)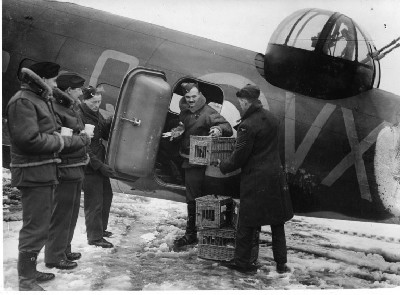 Maurice Warren
(Bircham Newton, he's 4th from right)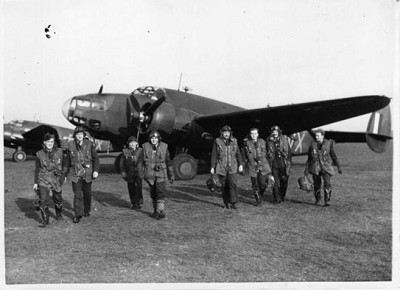 Maurice Warren
(Bircham Newton, he's 4th from left)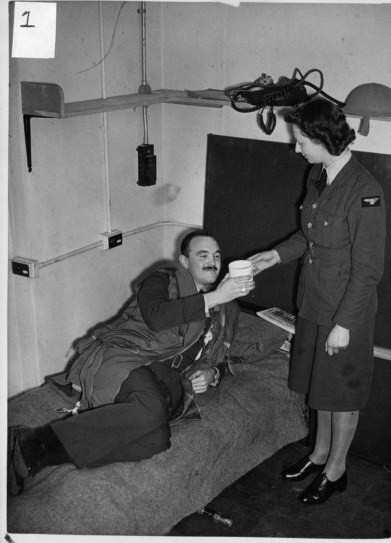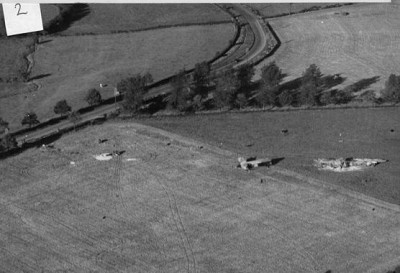 In November 2009 I was contacted by Adrian Lee who was researching 'old boys' from Bancroft School of which Maurice was one. It turned out that Maurice had flown in 206 Squadron with a chap from the same school called John Waterman, unfortunately John failed to return from an operation in a Hudson on the 11th February 1941 along with another 2 Hudson crews which was just 1 month before Maurice died. John's story is in the 'Pilots: Part II' section. Here's a photograph of Maurice from the schools 'Roll of Honour' along with the memorial plaque at Bancroft's School where you can see they're both mentioned.
Maurice Warren Bancroft School Memorial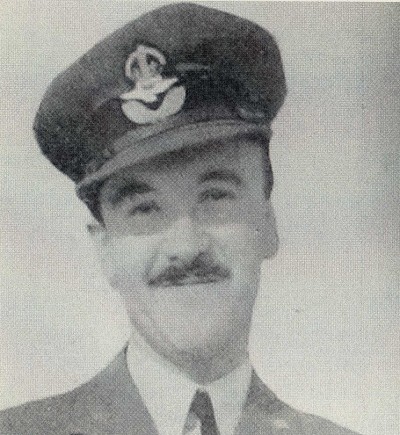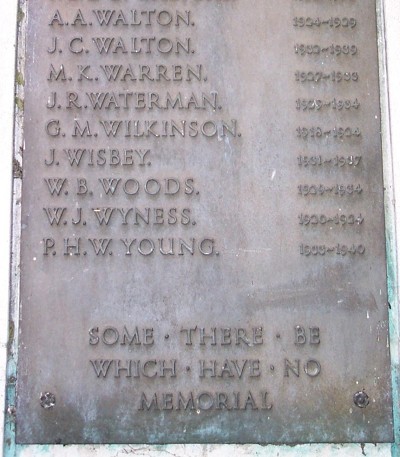 Chris also sent over the following photographs of Maurice Warrens brother, Sgt Clifford Warren. He served as an Observer and survived the war, but he died around 10 years ago.
Sgt Clifford Warren
(Bottom row, 1st right - 1941 Upwood, No.17 OTU)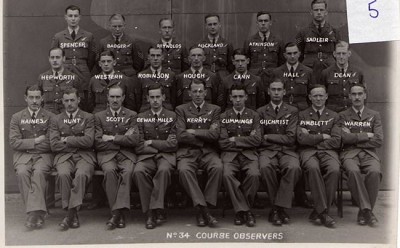 Sgt Clifford Warren
(Top row, 2nd right - Blackpool 1940)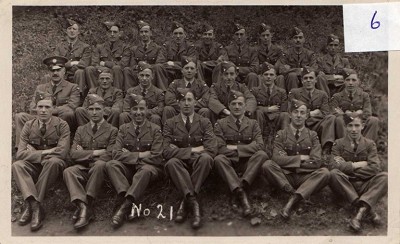 Sgt Clifford Warren
(Top row, 1 left - Observers course in Dunfries: 27 Squadron)